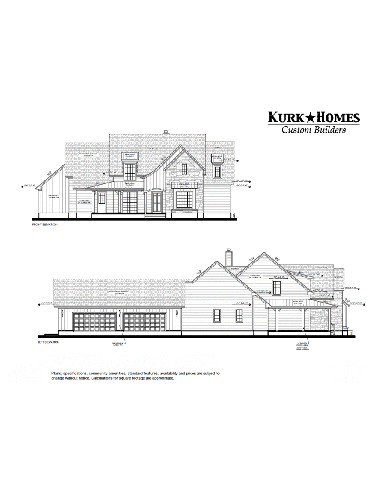 A custom set of plans includes a vast amount of detail, including abbreviations, dimensions, styles, and types of materials, ceiling heights, design, and more.
As our incredible design team dives into your vision of a home with these details, it is helpful for the homeowner to be familiar with some of our most commonly used nomenclatures along with understanding what goes into building a custom home. Read further to familiarize yourself with the various abbreviations, notations, and legends that you'll find in Kurk Homes' custom floor plans.
Table of Contents:
How To Read a Set of Floor Plans
There are several moving parts and pieces to developing a floor plan, so being able to read a set of plans can take some practice. However, it is an important skill to learn in order to avoid surprises when your home is built to the plan. Here we will list out the most common nomenclature in floorplans.
The design and build journey officially "breaks ground" when a client signs up for us to draw up their floor plan. The Kurk Homes design team works hand in hand with clients to design distinctive custom homes, and we have some tools to assist in creating the plan based on your vision. Once the design process starts, there are quite a few details noted, even on the first rendition, that is helpful to recognize.
Researching Property Details
Your floor plan will be a 2D drawing of a building or home that is drawn to scale and is commonly used in our design and build process along with architecture and building engineering. These are drawn from the top view but can also be seen from the side view as an elevation. Floor plans provide basic insights about the house, such as the areas of each room, ceiling height, window dimensions, and more.
In order to make the process as efficient, and as pleasant, as possible, we've developed a list of basics that we'd like to have available at the initial meeting. They include:
Property Details:

Having a clear picture of what will be needed to construct the home on the property will allow us to prepare the site. Besides understanding the basics of site preparation for the functionality of the proposed home, we want to see your vision along with determining such things as building setback and building area. If you're unsure if your property can be built on, we offer a complimentary site cost evaluation of the property.
Boundary Survey:

The

boundary survey, as differentiated from a community plat, will answer many of our questions; it's a vital bit of documentation that will speed the process of designing the perfect home. If needed, we can also recommend a trusted surveyor. In order to talk about what kind of house you envision, it's important to know these things about your property:

Shape and size
Location
Access
Views
Existing structures or impediments to building
Physical constraints including fences and easements

Existing Improvements?

If there's an existing home to be renovated or demolished, a final property survey will be necessary. That's the survey pulled at the completion of the original build.
An

Elevation Certificate, if the property is located in a flood plain. To learn more, follow this

link

to FEMA's guide to homeowners.
Topographic Survey:

The "Topo" gives us a more detailed picture of the lot, its slopes, and drainage patterns, sometimes including existing trees and potential concerns that might affect construction.

Some municipalities require a separate tree survey in order to secure a construction permit. The surveyor who did your boundary survey may be able to provide or topographic or a tree survey or recommend someone who can.

HOA Guidelines: These include CC&Rs, deed restrictions, neighborhood requirements, or historic design policies. The Kurk Homes team wants to be thoroughly familiar with your community and your lot from the outset. Your real estate agent, POA/HOA representatives, or the community management company can help you find the needed documents if you don't already have them.
Utility Specifics:

Kurk Homes designers need to know who your utility providers will be along with existing:

Utility lines and meters
Easements
Access
Tap Locations

Aerial View:

A Google satellite view (link) is usually sufficient for a city lot or for raw land.
Completed Pre-Design Questionnaire:

Please take the time to answer all pertinent questions. It's part of our "Getting to Know You" exercise, and really helps us share in your vision!
Specific Ideas:

If you've been collecting pictures of what you like, bring your notebook! Share with us your

Houzz

Idea Books,

Instagram

photos,

Pinterest

Boards, o

r

Southern Living

ma

gazine clippings. If your home is to reflect your personality and style, we need to see what you like.
Budget Constraints:

We realize that this is a preliminary meeting, but you most likely have a budget in mind for your home build. It's best to be aware of this from the start so we can do our best to honor your dollar limits and meet your expectations.
Ceiling Heights & Details
Ceiling breaks and changes are noted by dashed lines or SLP (meaning slope) for a vaulted ceiling. A recessed tray ceiling would have a dashed line, indicating an upward change in height, following the shape of the room: rectangular, square, dome, oval, octagonal or custom-shaped, we've done them all.
Do you want a Specialty Ceiling or want to see more ceiling ideas and options?
Types of Vaulted Ceilings Include:
Arched Vault
Barrel Vault
Cathedral Vault
Groin Vault (Cross Vault)
Flat Top Vault
The first image is an example of a beautiful barrel vault ceiling in a foyer with a tongue-and-groove stained pine application. As shown, a barrel designed in vaulted ceiling house plans has several dashed lines parallel to each other, indicating a rounded ceiling treatment.
---
How To Show Ceiling Height in Floor Plan
Below is a design of a recessed tray ceiling. The base ceiling height of the room is 10' and the dashed line of the box designates the ceiling change in height to 11' tall.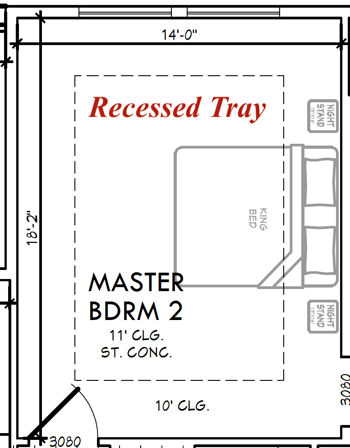 Shown below, this recessed tray follows the shape of the living room allowing for a more spacious feel.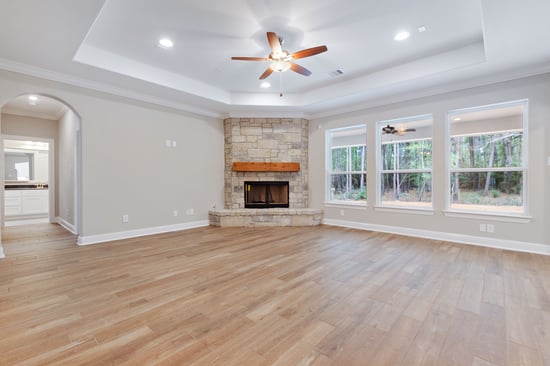 ---
A double tray would have two parallel sets of dashed shapes, one inserted symmetrically inside of the other. A vaulted ceiling has a dashed line in the center.
Seen in the plans below, a double dashed line in a vaulted ceiling indicates a structural beam, wrapped in cedar, pine, or sheetrock. In the following plans, you can see a dashed line crossing itself to signify a groin, or cross, vaulted ceiling.
What Does CLG Mean on Floor Plans?
CLG stands for ceiling height, noted for either the full room or the base plate (edge of room) if the ceiling is vaulted or has a tray application.
Arches separating rooms are noted by the same feet-inch diagram as windows and doors, with the width first in feet and inches then the height in the same sequence.
---

Door & Window Sizes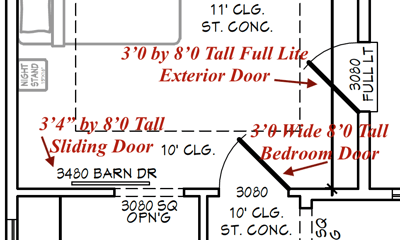 When listed on the plan, door sizes are listed width first, then height in width (feet inches) by height (feet inches). A 3080 door is 3 feet 0 inches wide by 8 feet 0 inches tall. By comparison, a 2868 door is 2' 8" or 2 feet 8 inches wide and 6' by 8" (6 feet 8 inches) tall. A window is noted the same way; for example, a 4016 window is 4'0 wide by 1'6" tall.
Door Types
An active door is the one door of a double door set that consistently opens. The other will open, but will need to be unlatched from the top and bottom to do so.
Solid core doors, noted as S.C., are doors to the exterior or attic, including a weather threshold and a lock. The design of a solid core door can be solid, matching the interior doors, full lite (a full glass door), French or "DL" meaning divided lite (the appearance of symmetrical window panes or mullions on the glass of the door), half lite (appears to be a fixed window on the top half of the door), or a Dutch door, in which the top half and bottom half of the door can open independently.
Window Details
"H.H." refers to the header height of the window, the height of the top of the window. If 8'8" H.H. is noted, the top of the window is measured at 8'8". SH or DH means single- or double-hung window, operable by either the bottom panel or both the top and bottom for a double-hung window. In contrast, FX means a fixed or non-operable window.
Tempered is a window application preventing shattering upon impact. Instead, the window will "spider" and homeowners are protected from shards of glass. Windows that are placed within door swings, or are low to the floor are required by code to be tempered.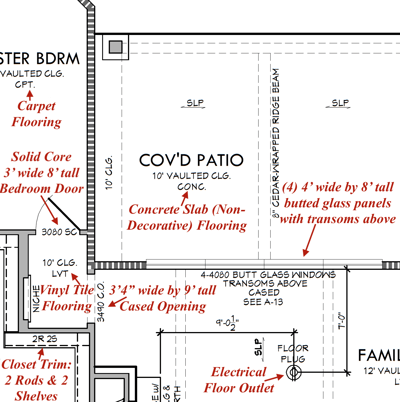 Mulled windows are two separate windows that each have a seam, affixed to each other. In contrast, butted glass, as shown in the picture below, are large sheets of glass that are joined together with a clear silicone seam.
Need some more window inspiration? Click here to read our Windows of the Home article with pictures and definitions of different window designs!

Wall Details on Preliminary Plans
As the design team is developing a set of plans for a homeowner, the walls are noted for different thicknesses by the width of the wall on the plan. See below for the 2x4 interior walls, garage walls, and 2x6 living exterior walls and plumbing walls.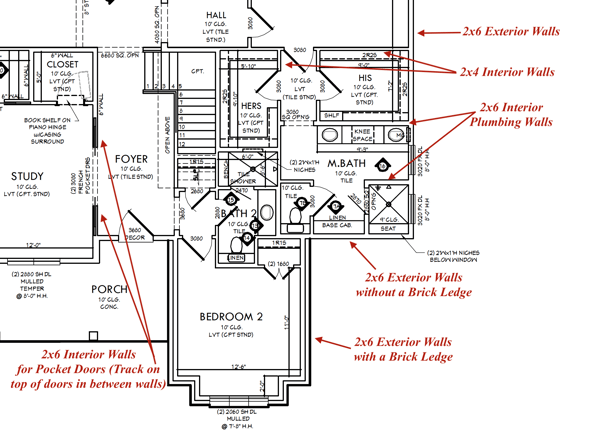 Wall Details on Final Plans
Using the "Wall Legend" provided on final plans, different wall thicknesses are noted. See below for 2x4 interior living and garage walls, 2x6 living exterior walls, and 2x6 interior plumbing walls.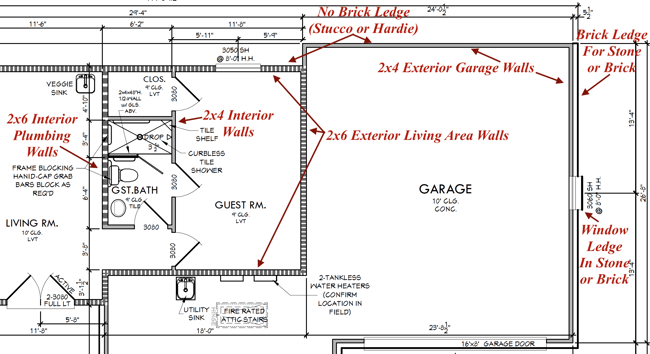 Flooring Notes
Conc. means concrete, non-decorative as part of the foundation or flatwork pour. St Conc is stained concrete. Cpt stands for carpet. Tile and Wood are written out. Wood decking is typical for elevated balconies. LVT is a vinyl tile product that is made to look like wood.
Can't decide what to choose? Here's an article on wood-look flooring options.
Cabinetry, Built-ins, and Sink Types
Apron (also referred to as farmhouse) or undermount kitchen and utility sinks are noted on plans, and shapes for vanity sinks are noted as undermount or vessel. Cabinetry is designated by a thin box, whether it is surrounding sinks, appliances, or as an island and perimeter of the kitchen. Cabinetry can also be noted as a smaller rectangle to signify a linen cabinet (humorously referred to as a head-knocker) above a commode. Knee-space under a vanity is noted as K.S. when there isn't enough room to write it out.
Built-ins are signified on plans in a similar way, by a box with text to designate the purpose: desk, bench with lockers, floating shelves, etc. Trim details and depth of shelves, number of shelves and racks are listed on closets such as 1R; 1S translating to 1 closet rod under 1 shelf in a coat closet versus 2 or more rods and shelves in bedroom closets.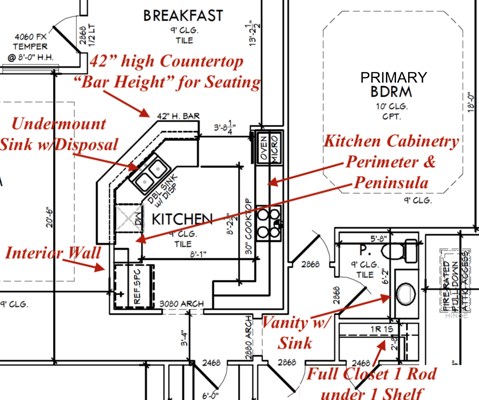 Exterior Elevations
The curb view, as well as sides and rear views of the home, are noted on the exterior elevations. Trim details such as cedar shutters, wrapped trusses, and material are called out as well as metal and shingle roofing and masonry material (brick, James Hardie siding or board and batten, stone, and stucco).
The related brick ledge is also noted for the lower portion of the facade to be wrapped in natural stone or full size brick.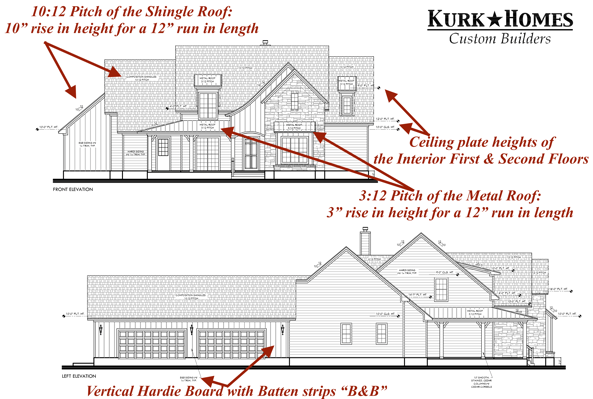 Interior Elevations
More detail is called out on the plan between the development of preliminary and final plans. Kitchen cabinet design as far as hood vent type and cabinetry doors and drawer banks are noted on the interior elevations, as well as cabinetry and built-ins. These are helpful for the cabinet company to make preliminary designs that will be finalized with field measurements and exact appliance model numbers.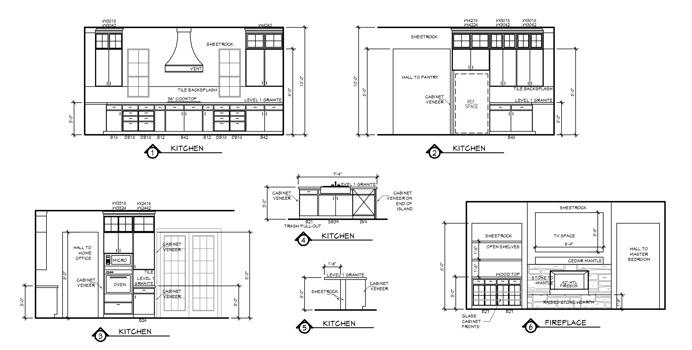 Legends on Floor Plans
Below is a legend the Kurk Homes design team uses to designate certain elements of the floor plan. If noted as "Opt.," this feature is not included in the price and is posed more as a question to the homeowner if they would like to add that feature to the home.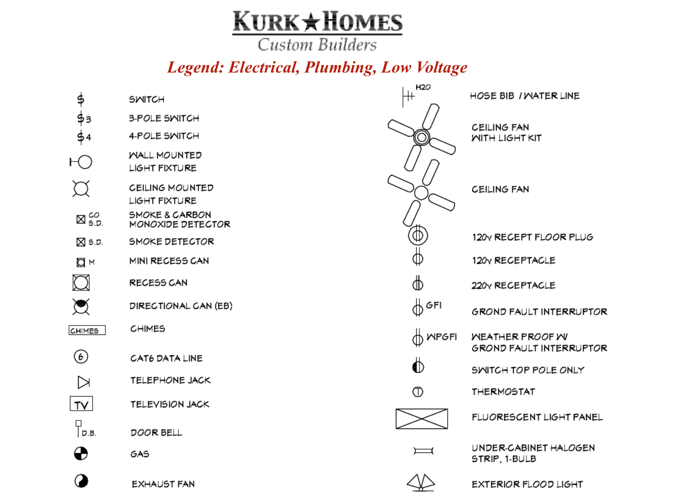 Home Visualizations
3D? Virtual Reality? Augmented Reality? We occasionally receive special requests for 3D versions of exteriors or interiors for an intricate feature or overall flow that the homeowner is having trouble visualizing. There have been amazing strides in recent years for virtual reality and augmented reality as well. We can certainly accomplish these goals with some extra design hours and services to add this peace of mind to our homeowners.
Kurk Homes is proud to offer superior quality-constructed custom homes with a 20-year structural warranty. We take pride in providing our clients with a "no surprises" policy by maintaining constant communication throughout the building process.
Whether building from an existing plan, a Southern Living Plan, or consulting with our talented Design Team to plan your dream home from scratch on your land, we take pride in going above and beyond to make your dream home a dream building experience as well.
Contact us today to discuss building your custom home!
Blog last updated: February 15, 2023