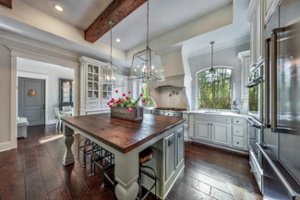 Everyone loves the classic, timeless look of hardwood flooring. However, many homeowners don't care for the maintenance involved in keeping a traditional hardwood floor looking its best, and for families with active children and pets in the home, hardwood flooring may not be the best option. Fortunately, today's homeowners have alternative choices in the form of wood-look luxury vinyl tile "LVT" or wood-look tile. Here's why some homeowners are choosing these options over traditional hardwood:
Nonporous
Because wood is a porous material, it is particularly vulnerable to damage caused by moisture, climate, high traffic, and other environmental stressors. For instance, sunlight streaming through a window looks gorgeous glinting off a hardwood floor, but the UV rays can age, discolor, and warp the wood. Any liquid spilled on a hardwood floor should be wiped up immediately, and atmospheric moisture can also cause warping. Hardwood flooring also contracts and expands with temperature fluctuations, which causes creaking and other issues over time.
Although polyurethane coatings can be used to provide hardwood flooring with a degree of protection, this is only recommended in areas with low traffic. This type of coating needs to be reapplied on a regular basis, which makes it unsuitable for heavily used environments and inconvenient for busy households.
Both luxury vinyl flooring and wood-look tile are made of nonporous materials that are resistant to potential damage caused by moisture and atmospheric conditions. These options are also less vulnerable than hardwood to scratches and denting mishaps that can happen due to high traffic or accidents such as dropping sharp objects on the floor as they are made with a protective hard-wear layer on the top.
LVT Is Environmentally Friendly
Although wood is generally considered an eco-friendly flooring option because trees are renewable, the truth is that reforestation efforts aren't on pace with deforestation rates, and the planet loses more trees each day. Vinyl flooring, on the other hand, is manufactured from recycled materials and is 100-percent recyclable. The major component of the synthetic PVC used to make vinyl flooring is salt, which is extremely abundant on planet Earth.
It's important to keep in mind, though, that reclaimed wood is now being used in a variety of construction products, including flooring. This material is taken from old barns and other structures that were built using the heartwood of old-growth timber and is extremely durable as well as very attractive.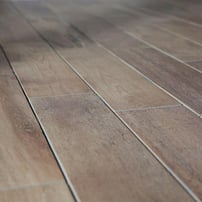 Wood-look Tile is Safe for Kitchens and Bathrooms*
Because kitchens have high humidity levels and the floors are prone to spills and splashes, most homeowners decline to have hardwood flooring installed in this main area, chopping up the flooring selections between the family room and kitchen in an open concept home. Both vinyl tile and wood-look tile options work great to have seamless flooring options for the family room into the kitchen and breakfast area.
*For full bathrooms with a shower or bathtub, wood-look tile is recommended over both hardwood and luxury vinyl tile. Though there is a moisture barrier for LVT, consistent water exposure in a full bathroom would cause moisture issues over time.
It's Less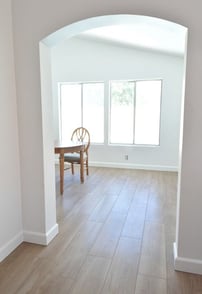 Expensive
Another advantage of choosing luxury vinyl tile or wood-look tile is that it doesn't come with the prohibitive price tag associated with having hardwood floors installed and maintained for long-term use.
Traditional hardwood flooring is an excellent option for statement areas such as elegant parlors or formal dining rooms that are only used on an occasional basis. However, luxury vinyl and wood-look tile are often better options for the rest of the home because they exhibit close to the same appearance but don't have the high maintenance requirements of hardwood.
Please don't hesitate to contact us to learn more about flooring options for your custom home!
If you're considering designing and building a new custom home, contact Kurk Homes today. Our expert staff can discuss your needs and help you find the perfect look for your brand new home in our design centers.