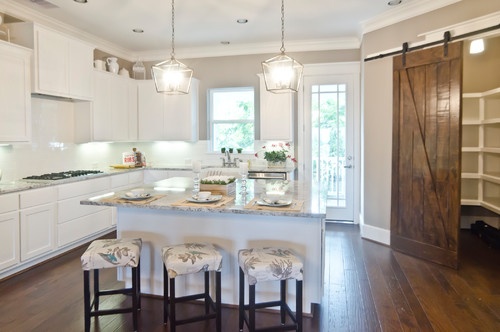 The "farmhouse" look has become a favorite of many, especially as it has recently been made even more visible in current interior design/ remodeling shows.
Farmhouse style
first exclusively was the architecturals, the outside of the house, and originated simply by location. A home on a ranch or a farm, despite what it looked like, was called a farmhouse.
Now, the term has taken on a much different design element - as both exterior and interior has been further defined. As the kitchen is deemed the heart of the home, creating a farmhouse kitchen adds warmth and functionality with crisp colors and fun antique accents.
7 WAYS TO CUSTOM DESIGN YOUR OWN FARMHOUSE KITCHEN: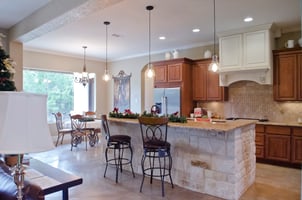 1. Open Concept.
The status quo for build on your lot house layouts, as the farmhouse style alludes to family and functionality. The place to gather, to eat together, pray together, and admire your grandmother's cooking and your spouse attempting to emulate grandmother's cooking! If you can, create the space that is open from the kitchen to the breakfast/dining areas and the living/family room.
Dropping the formals are optional. You can still have a farmhouse kitchen with a formal dining, whether or not that is close to the kitchen depends on if you can use the room for another purpose, and if you have the space to use it. Our customer base varies between formals and non. Typically, young or growing families want to have a more informal, breakfast area approach, or create a large Great Room from the kitchen through the dining to the family.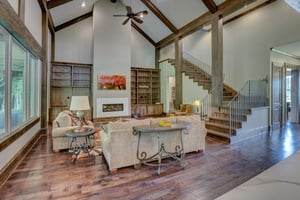 2. Raise that ceiling!
Vaulted ceilings have so much visual interest, if you have the space to lift it, a 14' or higher vault will make the room feel huge. A pop up or tray ceiling in a 9' or 10' plate allows you another foot without the additional expense of raising the full plate of the room. Even more flavor can be added to the vault or tray by installing faux beams in various patterns. Interior wood is great to add a cozy feel to any space - cedar wrapped faux beams have almost a meatier grain, while pine wrapped would be for a crisper look.

3. Square Off. Trim and interior millwork is typically square in a farmhouse kitchen; this is probably the biggest difference between French Country and Farmhouse interiors, square trumps round in farmhouse style. Rectangular subway tile in glossy white or grey is a common selection for kitchens, and can be detailed such as a houndstooth pattern above the cooktop for added interest.
Beadboard details on the back of islands, cabinet door styles or full pantry doors - or even as a wainscot wall - can be indicative of the farmhouse style. Rectangular baseboard, a plain 1x6 is perfect and inexpensive, double crown moulding and cased windows are wonderful trim details in a bright glossy or semi gloss white to add contrast to the wall color. Speaking of color...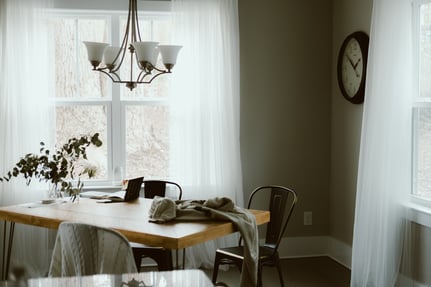 4. Be Cool with Color! Cool neutral walls* are "so hot right now" (in my best Zoolander voice) in greys, light blues, and the ever so popular MINT. I went with a Sherwin Williams Functional Grey with Extra White trim for my farmhouse kitchen. I'm not going to lie, I was so excited to see a fresh palette of color after years and years of builder beige. Add pops of color with a small accent wall or fun pottery/paintings/decor in bright greens, yellows, and blues.
*There is a transitional wall color if shades of grey instill fear. I actually convinced my husband to paint our powder bath this color, called Greige. Greige was the IT color as the "I may be scared of grey, but I'm sick of beige" neutral that could cross the temperature barrier as either warm or cool.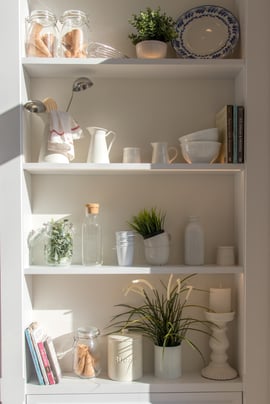 5. Expose the Shelves. Cabinetry in a farmhouse kitchen includes open shelving which can be functional or decorative, depending on the amount of storage. Colorful pottery or all white dishes and pitchers would both be great options for filling the shelves.
Hanging coffee mugs on wall racks is both convenient and adorable, glass doors and chicken wire has also made an appearance in exposing shelves in either the pantry or the main kitchen cabinetry.
6. Antique the Sink and Plumbing. Apron sinks, which is defined by the front portion of the sink extending slightly further than the cabinetry, like an apron, add a great dimension to the farmhouse kitchen in a custom built home. The sinks can be in either stainless steel or white porcelain, and are frequently one large bowl but can also be split, or partitioned, depending on personal preference.
The vintage look on the faucet can be achieved by selecting a bridge style of faucet in chrome or stainless with cross or lever handles and a sprayer. Moen has some great vintage fixtures: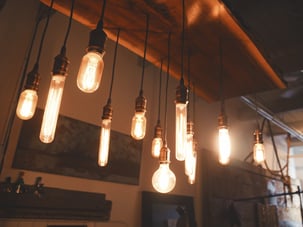 7. Let there be Edison light. A vintage touch to lighting can be easily added using plain hanging pendants, but installing an Edison lightbulb in lieu of a regular fluorescent bulb.
The distinguishable glowing filaments add old-time character. Selecting out of the ordinary lighting fixtures with mason jars, chicken wire, wagon wheels and rope are some more fun ideas to add quirky farmhouse fixtures above the island or sink without breaking the bank.