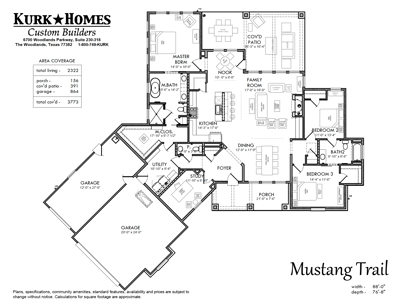 There are several moving parts and pieces to developing a floor plan, so being able to read a set of plans can take some practice. However, it is an important skill to learn in order to avoid surprises when your home is built to the plan. Read further to familiarize yourself with the most common nomenclature in Kurk Homes' custom floor plans.
The design and build journey officially "breaks ground" when a client signs up with Kurk Homes to draw up their floor plan. The Kurk Homes design team works hand-in-hand with clients to design distinctive, fully-custom homes, and we have some tools to assist in creating the plan based on your vision.
Whether you are basing your custom home on an existing plan or one from scratch, it's important to read and understand what the plan is designating. Once the design process starts, there are quite a few details noted, even on the first rendition, which are helpful to recognize.
The First Rendition
The first plan design that is sent to you is an aerial view of the plan, designed within the footprint of your property, with a specified number of bedrooms and bathrooms, and general flow of the plan. In our What to Bring to Your First Meeting article, we mentioned the recommended items to already have on hand, such as a boundary survey with benefit of title*. We can begin the design with a community plat; however, that is not recommended because there may be changed requirements or amended restrictions reducing your actual footprint (such as utility easements or updated build lines since recording of the original plat).
*When you acquire a survey with benefit of title, it means the title company is pulling all of the recorded information pertaining to your property in real time. Older boundary surveys that may have been given to you upon purchase of the property can actually be out of date. Kurk Homes and lenders we work with require boundary surveys with benefit of title.
What should you focus on for the first rendition?
Square Footage of 1st Floor: is there an HOA/POA requirement for each floor? If there is a second or third floor, what is your target total square footage? Kurk Homes builds with 2 x 6 exterior walls and 2 x 4 interior walls unless a plumbing wall, sound barrier, or chase/flue is designed. All of this will increase the living square footage from plan designs that do not specify the superior 2 x 6 construction.
On each floor plan, square footage is noted on the first page split in between living (the heated and air conditioned square footage), porch, patio, and garage. Additional square footage calculations in subsequent renditions may include future space, optional mechanical rooms, or decked attic space.
Kurk Homes calculates living square footage to the exterior wall. If the exterior wall material is planned to be brick or stone, a "brick ledge" of 5 1/2" will extend past the typical exterior (also adding square footage). A Hardie plank or stucco exterior will not have this 5 1/2" ledge for calculation. The thicker line extending past the exterior border line is the brick ledge.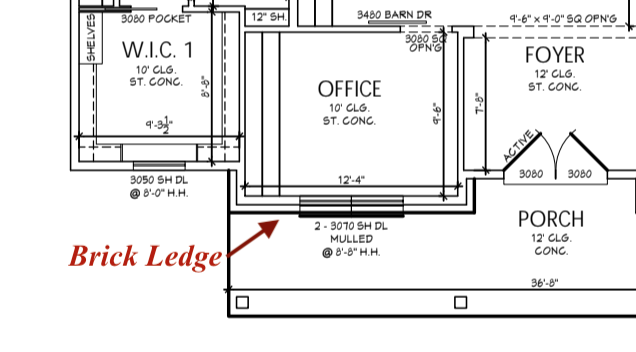 The Flow of the Home. After the square footage is noted, now place yourself inside of the home to imagine daily life, and envision looking out of your home. What do you want your view to be of the outside? If you have a tremendous view of rolling Texas Hill Country out the west and north side of your property, but close neighbors on the east walls, have the designer place windows, patios, walls of glass panels, full lite exterior doors more on the west and north sides. If a gorgeous pool is planned, how to do you want to see it when you're inside of the home? Key rooms to focus the views would be the family room, primary bedroom, outdoor living, and main eating areas.
Coming and Going. Another focus point would be the location of the garage and entry into the home. Do you envision a drop zone in the mud area or more of a resource center with a desk for you or family members to enter from outside and have a designated area to unload supplies, shoes, umbrellas, or mail? Do you need large closets or private bathrooms for guests or a separate entrance from the garage or mudroom?
Subsequent Renditions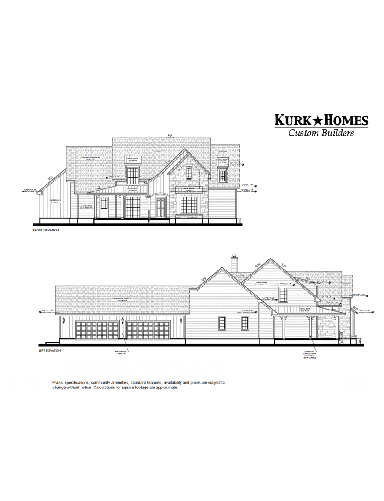 Once the square footage and flow of the home is set, the designer can provide more details for each room, as well as exterior elevations. Interior features such as ceiling heights, specialty ceilings, door and window sizes are noted in preliminary plans, before moving to the view of the exterior.
Exterior elevations include the material selections and curb appeal of the home, based on the style preference of the homeowner combined with the interior features and dimensions of ceilings and windows. Certain architectural styles may require some tweaking of the interior plan, location of sinks or doors, in order to create the vision the homeowner is seeking.
Once exterior elevations are determined, the designer will continue with more detail on the interior, including: built-ins and cabinetry locations, kitchen layouts with appliance and plumbing locations, flooring types, kitchen and vanity layouts, and electrical plans.
This set of preliminary plans gives enough information to create a sales price based on the interior and exterior features of the home plan and move forward with a construction contract with our homeowners.
Final Plans AKA Construction Drawings
The Final Plans contain exact dimensions of each measurable wall, on a 1/8" scale. Door swings and "active" doors (if double doors) are noted, and exterior door styles (full lite, half lite, dutch, double, etc.) are selected. Certain takeoffs for hardware, square footage for flooring types and countertops are also in the construction set. While the detail and scale do not change from the preliminary plans, they are not set for construction until each wall's dimension is noted on the plan.
These Final Plans are sent to the homeowner to review and sign so that the build team has one set of plans to build from. There are notes for "optional" items on the plans that may have been added in between the time of contract and the time of final plans, which are reconciled with a change order.
Final Plans are then sent to our 3rd party engineers, to design and stamp the Foundation and Framing plans. Building with sets of engineered plans ensures the structural integrity of the home, backed by our 20-year structural warranty. The energy efficiency is also gauged from the engineers with what is called a ResCheck, measuring the HERS rating of the home as designed. Later on in the process, 3rd party engineering inspectors come out at various points in construction to ensure the home matches what has been called out on these engineering plans.

For more information or to schedule an appointment, contact us!