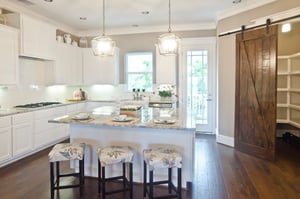 The all-white kitchen has reigned supreme among home decorating trends for the past decade. From stark alabaster to shades of soft eggshell, there's a white hue for every kitchen. One of the biggest benefits of going all-white is that it works for many styles - from space-age streamlined to farmhouse country casual.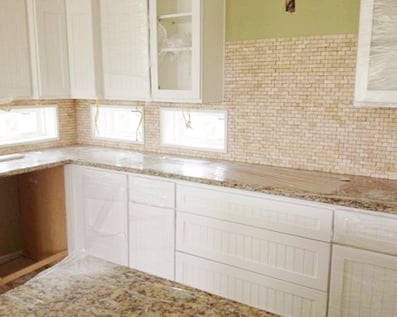 But white isn't without its disadvantages, either. For instance, meal preparation is the logical function of any kitchen, and all-white often means high maintenance for those who cook on a regular basis, and it's frequently not the best choice for households containing active children. White surfaces also tends to appear yellow and dingy with age, particularly if they're located in areas that receive abundant sunlight.
Still, there's nothing quite like a freshly cleaned, gleaming white kitchen to create that Pinterest-worthy vibe. If you want to hold onto that edgy, on-trend vibe but ditch the all-white palette, you're in luck, because color is breaking out in kitchens all over the country in 2018.
Is White on Its Way Out of the Kitchen?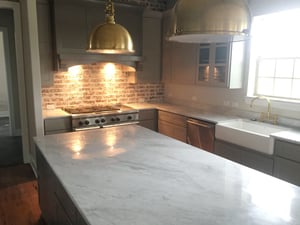 Home design professionals have been slipping color back into the kitchen for the past couple of years. Bright islands, highlighting a section of cabinets with a darker shade or even dark countertops and tile have been popping up in the latest home design trend magazines. You can even go bolder and use colors like brick red and smoky gray. Space-appropriate use of color is also big this year -- think keeping the food prep area light and bright while bringing a cozier ambiance to family dining spaces. This year's "it" color for kitchens, though, is blue. However, no matter which color scheme you decide to go with, layering is an important aspect of modern design options. Consider light blue walls with darker trim or vice versa, but don't stop at using just two shades, and remember to infuse textures into the design as well.
As far as fixtures and faucets go, black is this year's white, providing both classic and classy accents to any style of kitchen. Because black stands out significantly, always balance black fixtures by incorporating black items in other parts of the room. For instance, a gorgeous painting with a black wrought iron frame on the kitchen wall nicely complements black faucets. The look should be balanced with a few other black accents amidst the room. Another big trend for 2018 is the use of natural wood grains to provide kitchens with an enhanced feeling of warmth; you can use maple or oak for a bright and airy look.
Bottom line: your kitchen won't look like it's wearing last year's dress if you leave it in white. But if it's time to design a new home, or even a small remodeling project, now is a great time to mix it up with some vibrant splashes of color as well as rethink the base color. Personalization is also big this year, so don't be afraid to let your own individual preferences take precedence over any flashy home decor trends.
Whether building from an existing plan, a Southern Living Plan, or consulting with our talented Design Team to plan your dream home, we take pride in going above and beyond to make your dream home a dream building experience as well. Contact us today for more information on what the well-dressed kitchen is wearing this year, and what we expect in the years to come!