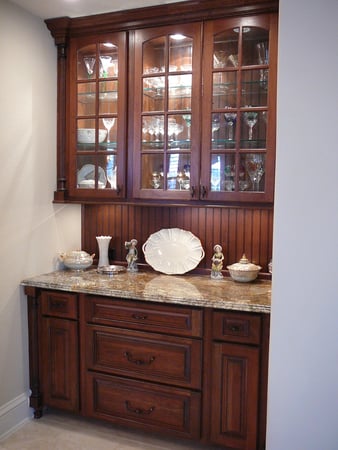 In the past, luxury estates had a full kitchen staff who utilized one or more large pantries to store fresh and canned foods as well as cooking equipment and serving items. After a time, pantries decreased in space as homeowners used kitchen cabinets more for storage. Currently, larger walk-in pantries with many purposes have come back into vogue as homeowners have recognized the benefit of out-of-the-way storage for everything from boxed food goods to kitchen cleaning supplies and occasional-use appliances. Here are some of the latest pantry trends that custom home builders in Texas are seeing.
Pull-Out Cabinet Units
Pull-out pantry units fit into the walls of existing cabinetry. They slide out noiselessly to reveal a column of shelves suitable for dry foods and kitchen accessories. An advantage of pull-out pantry units is that they can be installed anywhere in the kitchen and take up very little horizontal space. A pantry unit can be as small as spice rack 8" cabinets adjacent to the kitchen stove, or large enough to hang larger cleaning supplies tucked into the corner of the kitchen.
Walk-In Pantries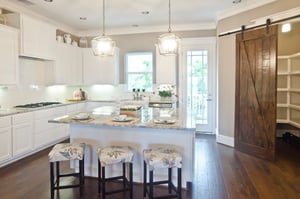 Walk-in pantries can vary in dimension anywhere between the size of a coat closet off the kitchen to an independent, fully-featured room. Walk-in pantries are typically lined with shelves on three sides, with room on one wall to hang kitchen cleaning equipment like brooms, mops, vacuums, etc. An advantage of a walk-in pantry is the abundance of storage space combined with the convenience of access. Everything is within sight and within reach, yet hidden behind a closed door. Homeowners can add a touch of their style to their pantry door - whether they choose a rustic sliding barn door, traditional frosted glass pantry door, or a fun(ky)-colored antique style door.
Butler's Pantry
A butler's pantry is a more formal pantry that is designed to hold specialty serving items like formal silverware, tea sets and trays, a crystal punch bowl with cups, and delicate china. If the homeowner entertains frequently, a butler's pantry is especially convenient. At least one wall usually contains cupboard shelving to keep family heirlooms or more formal tableware safe from harm. Another wall may contain an area for cleaning and polishing serveware. Butler's pantries may or may not be closed off with a door, since they are typically more decorative than the utilitarian walk-in pantry.
Baker's or Appliance Pantry
A baker's pantry, also known as an appliance pantry, may consist of a simple enclosed cabinet area behind closed doors. The homeowner would keep baking supplies here, including a stand mixer, baking trays and pans, mixing bowls, cookbooks, measuring cups and other kitchen accessories that might not be used every day. These compact and efficient units can be built into the kitchen or even into a hallway just outside the kitchen. Sometimes baker's pantries are half-sized, meaning that they sit atop an extended kitchen counter. The bottom area would then consist of drawers that would hold smaller items such as cooking thermometers, measuring spoons, etc.
Wine Pantry
Another trend among homeowners who build custom homes in Texas is a wine pantry. Wine pantries may or may not be built into the kitchen as a separate area of cabinetry. Often a wine pantry is built into the dining room, great room or study. Old-world style wine pantries may also be referred to as wine grottos, with the application of masonry on the wall(s) and/or ceiling as well as an antique style lighting fixture. Sometimes the grottos will even host an elaborate wrought-iron entry door. Wine pantries typically have a custom wine rack built into the top area, with glassware shelving below, including an area for hanging stemware. Lower shelves are added for liquors. Drawers are built in to hold things like openers, stirrers and drink napkins. Finally, a bottom cabinet with separate doors and shelving offers space for mixers and ice buckets, etc.
Many homeowners who order custom home builds in Texas get two or more of these pantries in their homes. They find that there is an organizational benefit for multiple pantries throughout the home. To learn more about pantry ideas for your custom home, please contact us today!