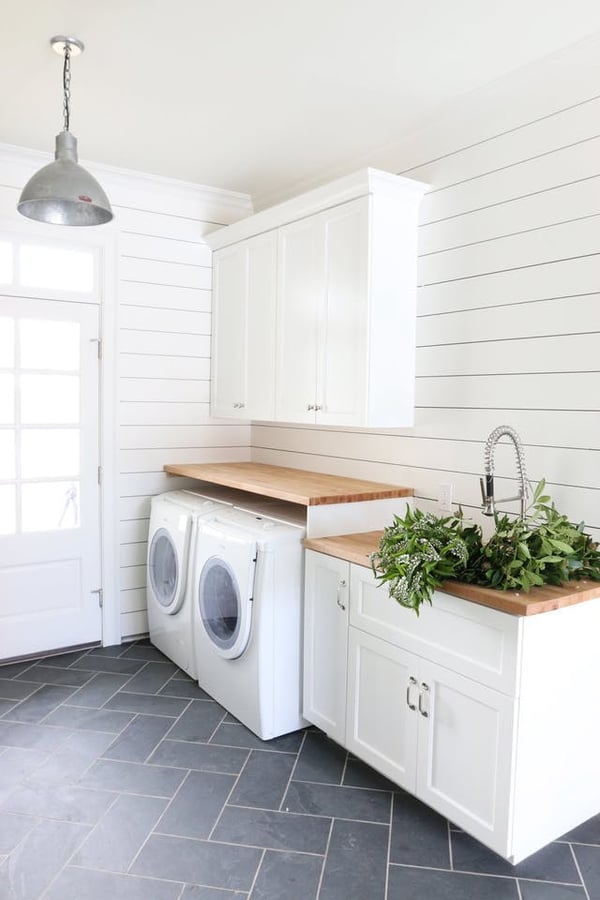 In recent years, a vintage decorating trend has become new again: indoor wood paneling. Far from the dark, knotty pine that graced the den of your childhood home, today's interior wood panels offer a fresh way to bring the outdoors in.
Not all wood panel options are the same. From shiplap to tongue-and-groove to board-and-batten, modern paneling comes in a range of styles and uses. Read on to explore the different types of wood paneling and discover which is best for your home.
Shiplap

If you've watched any home fixer-upper shows recently, you've undoubtedly seen a makeover or two that transforms a room using shiplap paneling. But what, exactly, is this somewhat strangely named material?
Shiplap consists of wooden boards that have a rabbet joint milled into the top and bottom so each piece can interlock. Traditionally used as cladding, or covering, on barns, sheds and outbuildings, shiplap panels fit snugly together by stacking atop one another and overlapping slightly.
Shiplap has a longer lip than tongue-and-groove boards, which offers more protection against rain and moisture when used outdoors. This longer lip acts as a barrier and forms a small groove, allowing water to run off easily, a feature that makes shiplap a good exterior choice in rainy regions. Hardiplank lap siding is a popular example of exterior shiplap; keeping the traditional look of a farmhouse, but made with cement fiber construction instead of wood for moisture and pest control.
When used for interior applications, wood shiplap offers a rustic, cottage look, thanks to its horizontal lines and texture that add warmth and informality to a room. It's a nice choice either painted or stained for kitchens, bedrooms and living rooms… really anywhere you want to add a touch of modern farmhouse style or achieve a coastal, beach-house aesthetic.
Tongue-and-Groove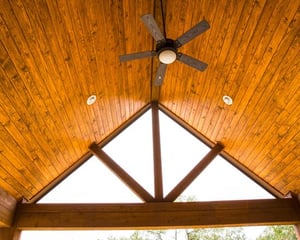 Tongue-and-groove panels also offer a classic yet rustic look, but differ from shiplap in their construction. While shiplap overlaps, tongue-and-groove boards interlock into each other for a smoother surface.
Each board has an edge with a "tongue" and an edge with a "groove" cut precisely to fit neatly together. When used as exterior cladding, this type of panel forms a barrier against the elements and acts as an effective insulation, making it a good choice for cold environments.
Though commonly used horizontally, tongue-and-groove paneling can also be applied vertically. This type of paneling tends to lay flatter than shiplap for a smoother finish. Tongue-and-groove material tends to cost more than shiplap, but it forms a sturdier structure.
Tongue-and-groove paneling can be used in various rooms throughout the home, but it's especially attractive when used as a backsplash in kitchens or bathrooms, on ceilings, and to add interest to walls in high-traffic areas or stairways. Like shiplap, tongue-and-groove panels impart an updated farmhouse look. Beadboard, or a panel made up of multiple tongue-and-groove pieces, are ideal for a country vibe.
Board-and-Batten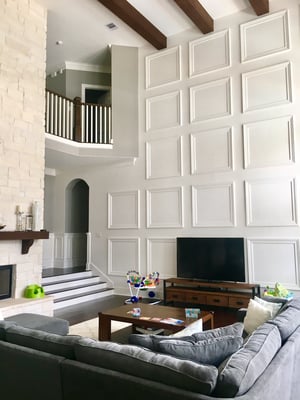 This type of cladding consists of large, flat panels, covered with a slightly raised "frame" made of wooden strips or molding. Board-and-batten panels are often used as wainscoting, covering the bottom half of walls, though they can also cover entire walls and exteriors.
Like shiplap and tongue-and-groove, board-and-batten originally was used on exterior walls but has become a popular interior wall option. Board-and-batten panels look great in dining rooms, entryways and mudrooms, or anywhere you want to create a clean, Shaker farmhouse look and add architectural interest.
Depending on the texture of the wood and the paint color and finish, board-and-batten panels can impart a classic and formal feel, a modern and minimalist style or a more rustic aesthetic. They're a great choice when you want a textured look or want to create an accent wall.
Today's wood panels offer a range of options, no matter what your style. All offer a way to add texture and architectural interest to your home's walls.
Contact us today to discuss your design aesthetic!
If you're considering designing and building a new custom home, contact Kurk Homes today. Our expert staff can discuss your needs and help you find the perfect look for your brand new home in our design centers.