Mark McGinley on the Move: Wisconsin to Texas and a Virgin Islands Dream
As a California native, Mark McGinley has had quite a few adventures before settling down in the Lone Star State as a professional builder with the Kurk Homes family in 2013. As a youth, he dreamt of becoming a forest ranger which led him to pursue a degree in biology at Northland College in Wisconsin. While taking courses, he spent his free time dabbling in home construction and the audio aspects of the music industry to help cover those student expenses along the way. These experiences helped him find his passion, so he never fulfilled his initial childhood dream, but rather he pursued building, music, and the lady who would ultimately become his wife.
Overseeing each construction detail of a Kurk custom home, Mark is a valuable member of our build team and guides our homeowners from lot preparation to final closing walks.
Mark's Journey Unfolds
Mark's interest in the construction industry and music led him to discover what would soon become another lifelong interest—his talented wife Lisa, who also currently works for Kurk Homes as the pre-construction coordinator. However, their journey getting to the Kurk Homes family is a fascinating one that involved 35 years of hard work and commitment in addition to wearing many hats. Once united as a couple, Mark and Lisa both did a lot of construction-related work, but those cold Wisconsin winters led them to seek out a bit of warmth indoors with a new pursuit.
Because they also were both so passionate about music, the industrious duo decided to invest in a music store that offered audio installations and served the community as both a recording studio and a lighting and sound company. With 20 years of this experience under his belt, Mark went on to own another company that specialized in recording and sound engineering services. His impeccable reputation allowed him to record some of the greatest artists of all time such as Willie Nelson, Emmy Lou Harris and B.B. King.
You might think that between having a daughter and being involved in the construction and music industries that Mark's family would have enough going on near Lake Superior…think again. They also raised Norwegian Fjord horses on their horse farm, which served as a training and boarding facility. Mark spent his last ten years in Wisconsin as an EMT/Paramedic and firefighter, while continuing with his woodworking. He even built his own boat, and plans to do so again when he and Lisa decide to retire.
The Kurk Homes Experience
When Mark chose to get back into construction full time, he and Lisa both saw great opportunities that Kurk Homes in Texas had to offer. Not only could they do what they love together, but they could do it in a much more inviting climate all year long. Turns out that this was one of the best moves of their lives. Using his experience in construction and as a business owner, Mark has become a premier builder for Kurk Homes.
What he enjoys most about the work is seeing the unfolding of a homeowner's vision as it becomes a reality—from bare dirt to the project's completion. He also loves sharing the joy of those having a new home constructed, and he understands that a home that may not be a million-dollar mansion is just that to the buyers. That's why he takes time to truly listen to every client's needs, wants and desires. He takes the advice and guidance of other builders and designers to help ensure that every end result is exactly what the homeowner envisioned—and more.
Mark's Life Beyond Work
One thing that many people don't know about Mark is his love for animals, particularly dogs. Having once raised Australian Shepherds, it was fate that that brought him to find Sparky at a job site. He was a skinny, sickly dog desperately eating taco wrappers, so Mark put him in the truck and brought him home. Since then, he's rescued another canine in need from the South Texas Aussie Rescue—Molly—and when Mark comes to a job site, she's likely to be in tow. In fact, clients and coworkers tend to get so fond of her that she gets a lot of extra treats and petting. As life cannot be all work and no play, Mark and Lisa have a plan for retirement when that day comes. After many visits to the Virgin Islands where they have had remarkable boating adventures, the couple hopes to call the islands home one day while living on a catamaran.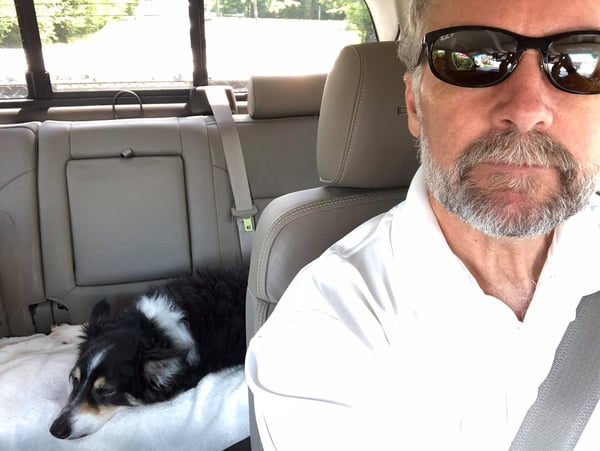 Kurk Homes is proud to offer quality-constructed custom homes with a 20-year warranty. We take pride in providing our clients with a "no surprises" policy by maintaining constant communication throughout the building process. Whether building from an existing plan, a Southern Living Plan, or consulting with our talented Design Team to plan your dream home, we take pride in going above and beyond to make your dream home a dream building experience as well. Contact us today to discuss building your custom home!