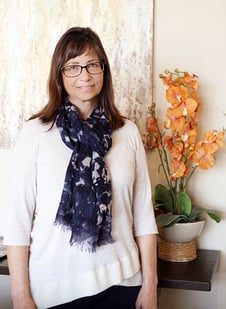 "Growing up in a household with two artists as parents, I was exposed to mediums, colors and textures." Having a graphic designer for a dad and an illustrator as a mom exposed her to architecture and art very early on. With an uncanny gift of visualization, Lisa serves as our pre-construction coordinator, handling the behind-the-scenes efforts for each homeowner—arranging permits, acquiring exterior selections and samples, and keeping the customer up-to-date on the progress of the pre-construction stages. "I'm there to help put all of the parts and pieces together."
As you walk through our Kurk Homes Model Homes, you may spy pieces of art hand-painted by Lisa. S
he also has a strong instrumental gift of traditional Bluegrass and Celtic music.
With the ability to manage multiple moving parts and pieces at once, Lisa is instrumental in guiding our homeowners from orientation to construction.
Starting out her career in art and ecological education, she has always had the gift of visualization. Even as a little girl, Lisa can remember looking at architectural and home plans. Growing up in Bucks County, Pennsylvania gave her an appreciation for colonial architecture and the fine arts. With natural earth tones in mind, she has an eye for texture and balance. This evolution naturally led her to exploring mixed-medium painting. She is a proud mom, has raised Norwegian Fjord horses, and continues to explore music. She can play the bass, tin whistle (pennywhistle) and the bodhrán Irish drum.
Kurk Homes is proud to offer quality-constructed custom homes with a 20-year warranty. We take pride in providing our clients with a "no surprises" policy by maintaining constant communication throughout the building process. Whether building from an existing plan, a Southern Living Plan, or consulting with our talented Design Team to plan your dream home, we take pride in going above and beyond to make your dream home a dream building experience as well. Contact us today to discuss building your custom home!