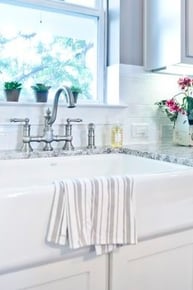 Farmhouse kitchens are appealing more to homeowners because of both the simplicity of the style and the utilitarian design.
Homeowners that prefer a modern design aesthetic are incorporating the traditional elements of a farmhouse kitchen to create a simple, fresh, useful and welcoming space for their families.
Below are a few design details to keep in mind while designing a modern farmhouse kitchen.
Materials, Elements & Color
Choosing the right kitchen materials is the foundation for any modern farmhouse design. Incorporating elements that are strong and durable is key. Granite, quartzite or butcher block countertops will stand up to a hard day's work while still looking beautiful. Countertops that are simple in color and pattern is typical of a farmhouse kitchen. Backsplash material can vary, but is usually a traditional white subway tile. Unexpected pops of color are a fun way to add personality to the space as well. This can be done with Shaker style cabinets in two complementary tones or incorporating an eye catching color into the backsplash material. When choosing main colors, whites and blacks will keep a fresh, clean, and uncluttered appearance of a simple farmhouse kitchen. Open or floating shelving are also common features in farmhouse kitchens and give the homeowners the opportunity to display priceless pieces of dinnerware, decorations or to keep kitchen items within easy reach.
The Sink is Critical
Farmhouse kitchens are known for their deep, single-basin sinks that tend to be the focal point of the kitchen. Sink styles vary between apron-front and under-mount and are typically made from porcelain material. Homeowners not only find the sink design appealing and reminiscent of the old days of canning, lots of cooking, and sometimes even bathing babies in the kitchen, but the usefulness of a single, deep sink is favorable for entertaining and everyday use. Selecting a timeless kitchen faucet also completes this look.
The Perfect Walls
Although contemporary wall finishes and paint can stand up to the busiest of kitchens, traditional farmhouses needed something a little more enduring. Traditional farmhouses were known for their shiplap and beadboard walls. Today, homeowners are using these durable, stable materials in their kitchens as well. The crisp lines of shiplap offer a modern design element to any room while giving a nod to the traditional farmhouse design. The introduction of stone or brick to certain walls of the kitchen is also a great way to incorporate a traditional farmhouse feel with texture. Masonry can also be installed on the floor and as a backsplash behind the stove. This material introduces not only a texture to an otherwise crisp clean space, but also warms the kitchen with color and charm.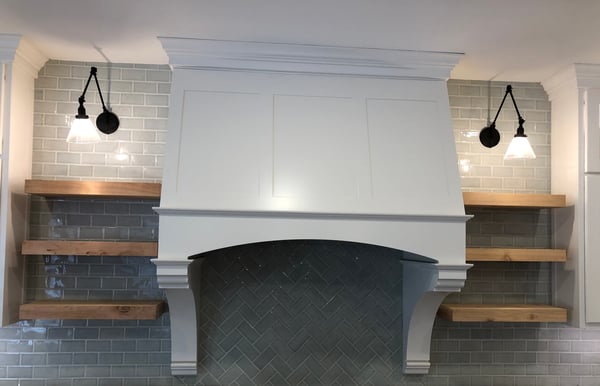 Light it Up
The farmhouse kitchen is brought to life with the jewelry of the home: lighting fixtures. In past traditional farmhouse kitchens, the abundance of windows provided all of the natural lighting needed. Today, in addition to natural lighting, task lighting such as recessed can fixtures is key. Pendants and wall sconces add a touch of whimsy to an otherwise utilitarian space and help to create a relaxed ambiance in the evening.
Add Spunk with Accents
The basic bones of your modern farmhouse kitchen may seem almost too plain, but considering that the original style was based on function, that's not too surprising. If you'd like yours to be more personal and colorful, it's time to dig into the accents — where even the traditional farmhouse came alive. Vintage accents like galvanized metals can become beautiful planters for bright flowers, and old-style pastoral plates can be displayed on your floating shelves. Hang a few colorful aprons near the stove, and include a vintage rag rug by the sink. Don't forget the glass jars! Fill them with flowers, vivid dried beans, or even a collection of old buttons.
Make It Your Own
Remember, when creating the perfect kitchen for your home, there are no hard rules. The modern farmhouse look has a few common elements that are present in most kitchens of that style, including the big sink, white walls and durable surfaces. Everything else after that is limited only by your imagination and personal taste.