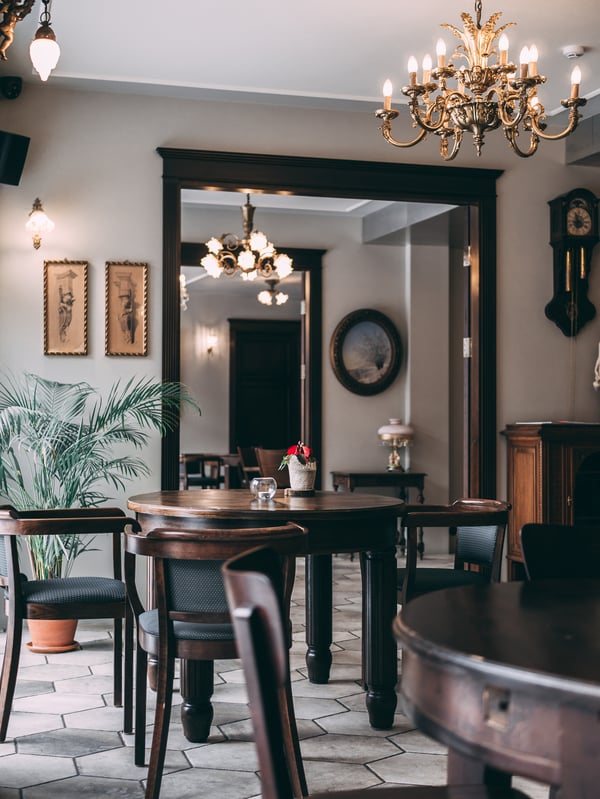 There are a lot of ways to design and build a custom home, and one of the most popular options includes the addition of farmhouse features. These features have always been in some homes, but they wax and wane in how much of an interest there is in them. With the right mix of these features, though, they can have a timeless look and feel that will remain lovely and valuable through all the changing styles and years. Here are five of the most important considerations when you're looking to create a custom home that includes farmhouse features.
That Rustic Look is Key

When you think of a farmhouse, you generally think of a more rustic look. But that doesn't mean your entire house has to look like a farm or a cabin. That might be too much and may not give you the feel you're going for. Instead, consider adding rustic elements to a house that is otherwise more neutral. Barn doors to divide your living room and dining room, for example, can be one of the best options for bringing a farmhouse feel into your home without it becoming overdone. Some of the light fixtures and other small touches can also bring a sense of farmhouse feel to your home with an understated level of elegance.
Wood is a Popular Option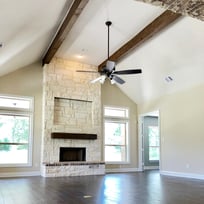 Another item a lot of people think of when they picture a farmhouse is wood. But you don't need to wood panel your entire house - or even an entire room - to bring the richness of wood into your space. If you want farmhouse features in your custom home, consider wrapped cedar or pine faux beams on your ceiling, or a reclaimed and refinished piece of wood for a countertop or bar area. You can also use stained wood for doors, trim, and moldings instead of painted, including windows. There are a number of great ways to use wood to get a more rustic, farmhouse feel, without overdoing the look of it by keeping the overall theme more neutral.
Think Cozy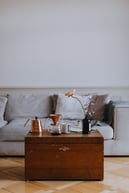 Farmhouses feel cozy. They feel lived in and comfortable, and yet still lovely and well cared-for. No matter whether your home is old or new, having that cozy feeling is important. You don't need a tiny space to keep it cozy, though. You can have a large home with big, open rooms, and still create the feeling you're looking for. Among the best ways to do that is through your color selections. Darker colored walls with contrasting light trim will add to the cozy feel, while the opposite lends itself towards a modern farmhouse vibe. You can also adjust wall placement, ceiling height, and many other features to give a nod to cozy farmhouses everywhere while still keeping the house open and airy.
Simplicity Makes Features Stand Out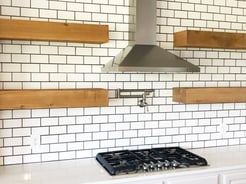 When you want your custom home to have a farmhouse feel but you also want it to showcase some great features, simplicity can help. In other words, think quality and not quantity to avoid a lot of the clutter that many homes fall victim to. That doesn't mean you shouldn't decorate, of course, but you should focus on adding personal touches that really mean something to you. Make one painting a focal point instead of choosing an entire collage to hang on the wall. You can also select decor that speaks to the farmhouse theme, to further accentuate the beauty of that idea.



Understand What Farmhouse Features Mean to You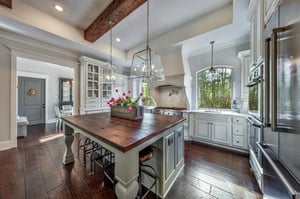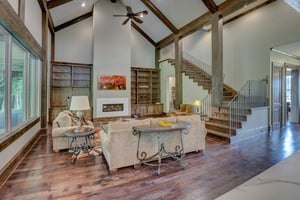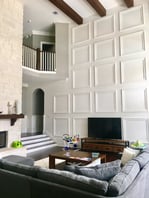 Some people want their custom home to really look like a farmhouse, and others want it to have some farmhouse touches or features, but much more neutral theme overall. Both options are great choices, as is finding something in the middle of those two aesthetics. No matter which kind of farmhouse look you're going for, understanding what it means to you matters. That way you can convey what you really want and need in your home to your builder, and to anyone you hire to decorate once the home is constructed. That will help you truly have what you're looking for.
Have you followed us on social? See some of our #farmhouse concepts on Houzz and Pinterest.
At Kurk Homes we are #BuiltOnTradition and we have been designing and building from the Gulf Coast through the Texas Hill Country for nearly 30 years. Reach out to us today and see how we can work with you to capture your vision and create a custom home with farmhouse features you will love.
------------------
Kurk Homes is a Third Generation Full-Service Custom Build on Your Land company that is one of an exclusive group of builders chosen for the Southern Living Custom Builder Program in New Braunfels, Magnolia and Huntsville, Texas. We are the only Southern Living Custom Builder to have a 20-year structural warranty. Kurk Homes designs and builds custom dream homes to a higher standard. We offer 2 x 6 exterior walls and multiple meticulous third-party inspections from pre-foundation placement to the final T.R.E.C. and Guardian Home certification. For more information, please visit www.kurkhomes.com