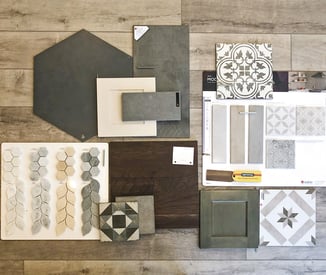 The days of using magazines and catalogs for home design inspiration are past us. The internet has opened up a plethora of resources and blogs for people to find the perfect version of interior design inspiration to fit their home.
Whether you're looking for a particular aesthetic for a new build, remodel, or just a style refresh, there are countless resources out there to see what designers and DIYers are up to these days.
Before moving forward and investing in your perfect version of a home, it's best to gather as much inspiration as possible. Fortunately, there are visuals to glean from around every corner. From decorations and fixtures to small bedroom accessories and living room ideas, a cohesive collection of finishes can make all the difference in your home.
With endless interior design and home renovation blogs to sort through, our top 8 resources below should help you push your dream home ideas into a reality.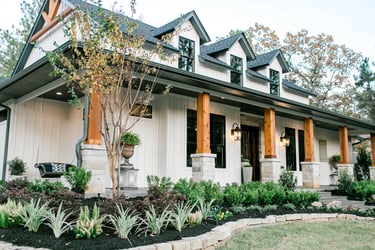 Whether you are looking for ideas for the inside of your house or the outside, Southern Living is a wonderful resource. They have floor plans, home office design inspiration, landscaping ideas by zones, and even ideas for holiday decorations.
Check out their home blog feed to see what makes Southern Living an authority on home and interior design.
Being part of their Southern Living Custom Builder Program, Kurk Homes is proud of our 2019 Southern Living Showcase Home in Texas Grand Ranch. Open to the public, this modern farmhouse serves as a model home and design center for prospective homeowners to get a feel of what goes into a Kurk Homes custom built home.
If you are on Instagram there's a strong chance that you have seen work either completed by Studio McGee or inspired by Studio McGee. Their design aesthetic epitomizes the term Modern Farmhouse. The McGee duo like to keep things bright and airy while making a space feel cozy and family friendly.
Through their studio blog they often share tips for styling your home and sprinkle in beautiful pictures of completed projects. Studio McGee is a great resource for all things home related!
With their vision of beautiful design being approachable, Studio McGee has become one of the leading innovators in the interior design industry.
Headed by Julie Bradshaw, an award-winning leader in Texas home renovations, Bradshaw Designs has been changing the interior design landscape of lake houses, kitchens, ranches, baths, and other types of homes in Alamo Heights, Terrell Hills, San Antonio, Olmos Park, and other areas.
According to Modern Luxury magazine, Julie is the "renovation maven" and known for her involvement and knowledge about every element of remodeling from working with contractors and selecting materials to supervising design implementation, furnishings placement and plans.
On the blog, Bradshaw Designs delves into everything Styling a Nightstand to the different Shades Of White and how to use them. Browse through the Bradshaw Designs website and marvel at the results Julie can deliver or follow Julie on Instagram.
Founded in 1989, Kurk Homes has become a leader in custom home designing and building around Houston and the Hill Country area of Texas. Scroll through our Instagram to find in progress builds, inspired kitchen design, and stunning home exteriors.
Many of our clients have special requests for their custom homes including everything from expansive pantries and kitchens to hidden rooms and bookshelf doors. Anything a prospective homeowner wants, we can construct. If you dream it, we can build it.
Take a virtual home tour and check out some of our most popular blogs for future home inspiration, family room ideas, and tips for custom building.
It's no secret that we love anything and everything Joanna Gaines does. Her blog and the Magnolia Instagram account encompass a wonderful mix of home and room decor ideas, recipes, and tips. Joanna has become a major player in the design world but has not let that sway her from her down home aesthetic.
Her designs are classic, comfortable, and on trend. She loves to incorporate antiques and quirky pieces to make a house feel like a home all while maintaining a cohesive look that is family friendly.
Going a step further, Magnolia now offers workshops led by experts so you can hone in on those kitchen and garden skills that may just inspire some home design changes.
With the mantra of "Explore the Possible.", By Design Interiors is always pushing the boundaries of interior design by offering new ideas that make homes both beautiful and livable. Established in 1990, the demand for projects quickly grew which expanded the team to multiple talented designers who turn houses into homes.
By Design Interiors has many services to choose from including Interior Design, Design Consultation, Custom Homes, New Constructions, Renovations, and Home Furnishings. Their instagram account houses a constant feed of various designed interiors ranging from modern farmhouse with open shelving to bright pink walls and loud pops of color.
From A to Z, Pinterest has everything you could possible need to see for design inspiration, home interiors, and home decorating ideas. Anyone could spend hours scrolling through endless images of beautiful homes aiming to emulate a particular style or even scope out ideas for the next project.
Using the platform is simple. All you need to do is create a free account and begin selecting some of your suggested boards. From there, you can start pinning images until your heart is content.
Whether you're a professional interior designer looking for some fresh ideas or a novice hoping to do some DIY home decorating, Pinterest has it all. Get started with a search on custom home design!
The Houzz platform was made for homeowners to find home professionals along with gathering ideas and quotes for upcoming projects. From the navigation, you can select "Get Ideas" and immediately begin browsing images and filtering through products with millions of results.
When you hover over an image you like, you can choose to save it to your ideabook. A Houzz ideabook is a place where you can store ideas and build dreams, just like a Pinterest board. You can save everything you see on Houzz in your ideabooks, including your favorite home design photos, fixtures you may want in your custom home, paint colors that stand out, or simply a pretty faucet you may want one day.
Check out the Kurk Homes Houzz profile!
---
As a third-generation family business that has been designing and building high-quality homes since 1989, Kurk Homes delivers results. Contact us today to learn more about our services.
Ready to start designing your custom home?
Last Updated: June 3, 2022