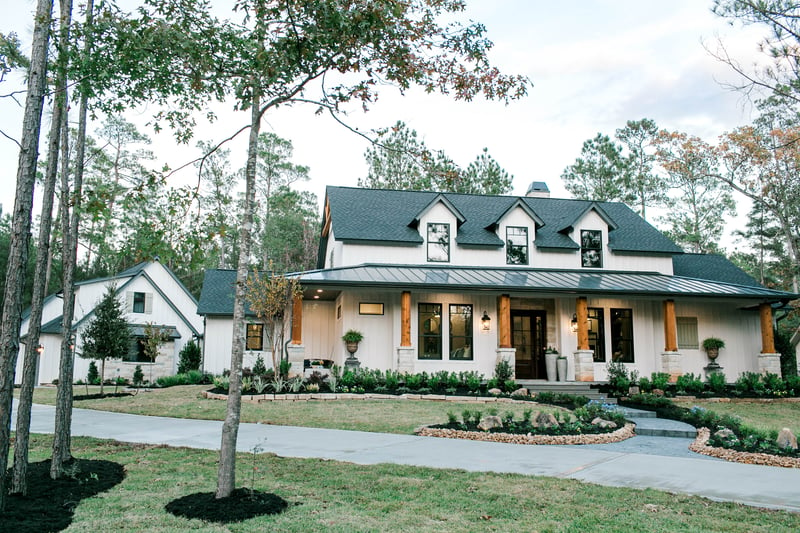 Since 2017, Kurk Homes has been part of the Southern Living Custom Home Builder Program which allows us to create home plans with a Southern Living design. Southern Living hand-selects members based on their community reputation, the strength of presence in their respective markets, superior quality and attention to detail, innovative style, and other strict criteria.
The brand has more than 1,000 exclusive Southern Living house plans, available in a variety of styles, that have been created by respected architects and designers throughout the nation. As an exclusive Southern Living Builder Partner, Kurk Homes is authorized to build homes from any one of these custom plans including multigenerational house plans. Read about House Plans That Will Never Require A Downsize on Southern Living.
For our Southern Living Showcase Home, we custom-designed The Kurk Homes "Legacy Ranch" — a multigenerational one-story home, with a bonus room above the garage, in Texas Grand Ranch, located just north of The Woodlands in Huntsville Texas. Here are some highlights of this featured custom home design:
3,165 living square feet

3 bedrooms

3 ½ bathrooms

3 + car detached garage with stairs to future living space or air-conditioned storage above

Casita, complete with a separate living area, bedroom, and handicap-accessible bathroom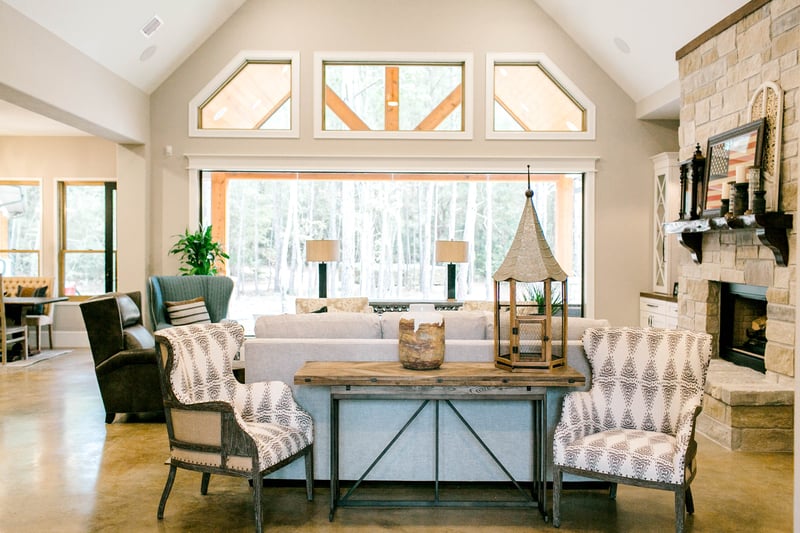 The Kurk Homes Legacy Ranch Showcase Home, which is also our fully furnished model home and design center, has come together beautifully and we're so excited to share it with you all. We completed construction on the home in late fall of 2019 and had a wonderful Southern Living Showcase Tour with beautiful products from local artisans and vendors over the first three weekends in November, commemorating Veterans Day.
Ticket sales and donations from the fundraiser were distributed in full to both Camp Hope (Kurk Homes selected charity) and Operation FINALLY HOME (Southern Living and GHBA selected charity).
Exterior Selections
The exterior features below were hand-picked by our team of designers to fit the Southern Living style while fitting the surroundings of Texas Grand Ranch. With the details below, you can match this style or create your own perfect home.
Walls - Sherwin Williams 7028 Incredible White
Trim - Sherwin Williams 7674 Peppercorn
Shutters - Sherwin Williams 9127 At Ease Soldier
Cedar Columns/Truss - Minwax 2716 Dark Walnut
Clopay Coachman Series garage door
Exterior door hardware from Kwikset in Ashfield style
Nestled in the woods of the Texas Grand Ranch, this home and casita combo is the perfect peaceful escape from the hustle and bustle of life. A large patio with cedar-wrapped beams and a paved firepit provides a relaxing spot for get togethers and family celebrations.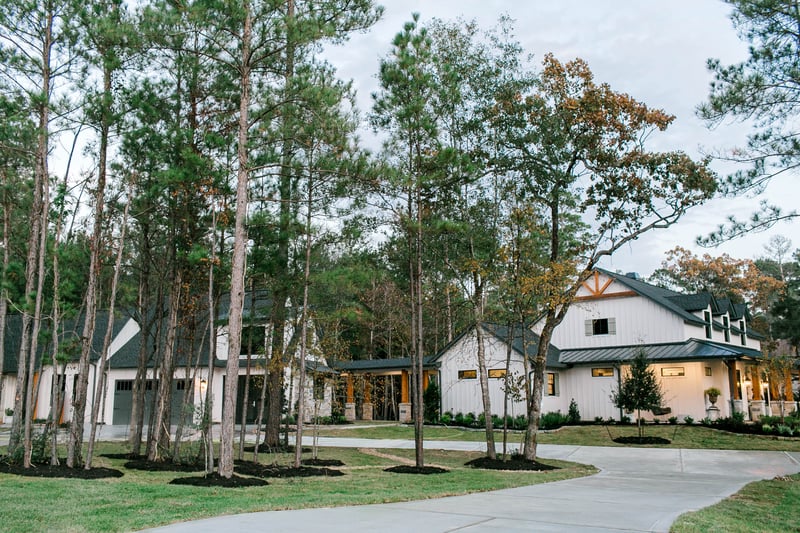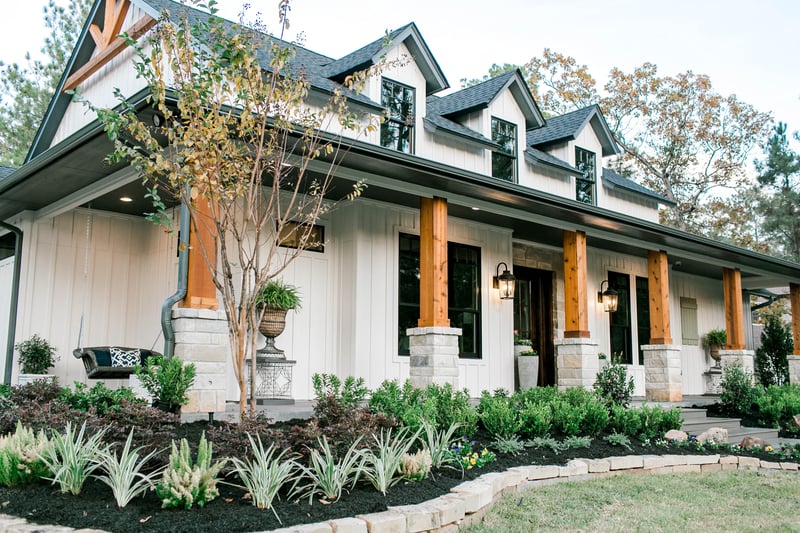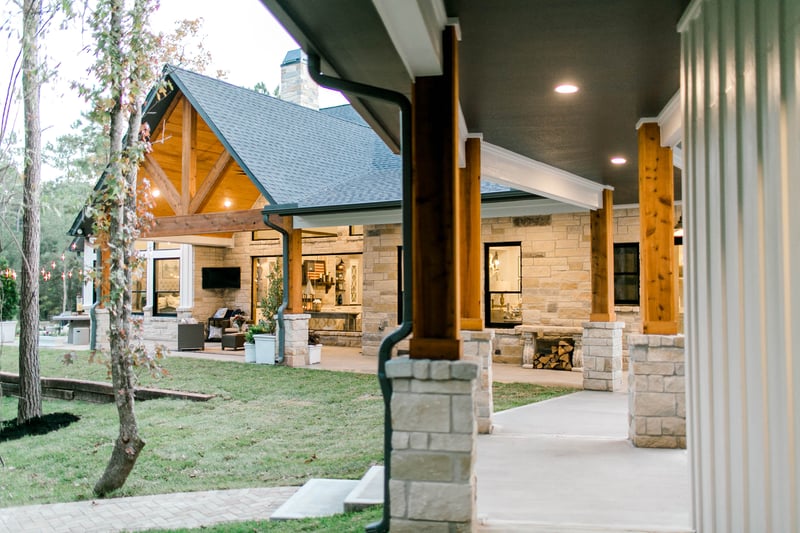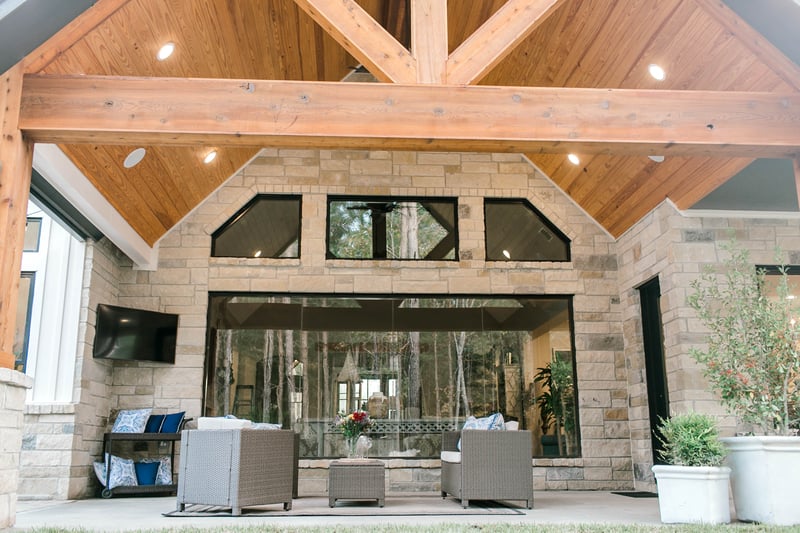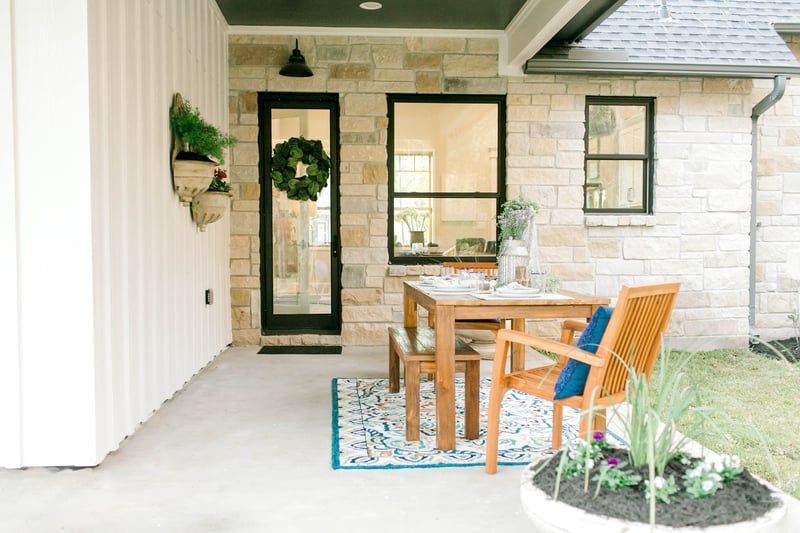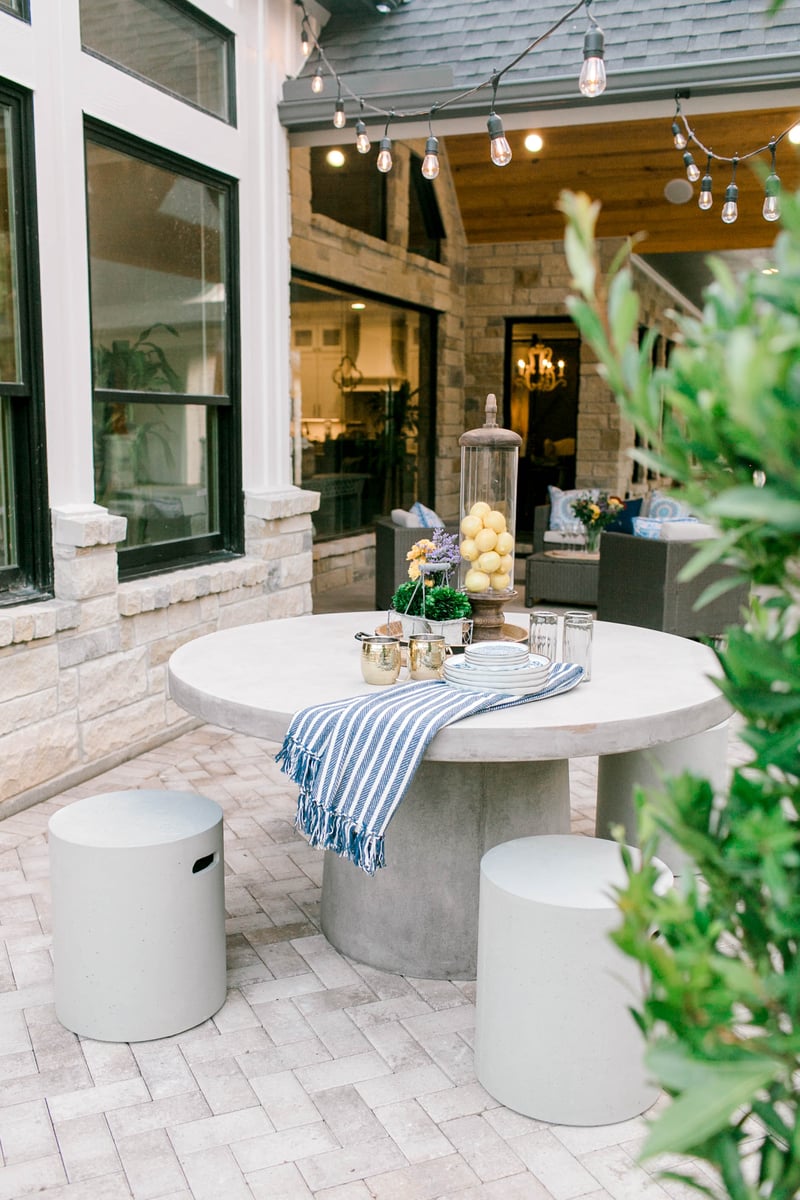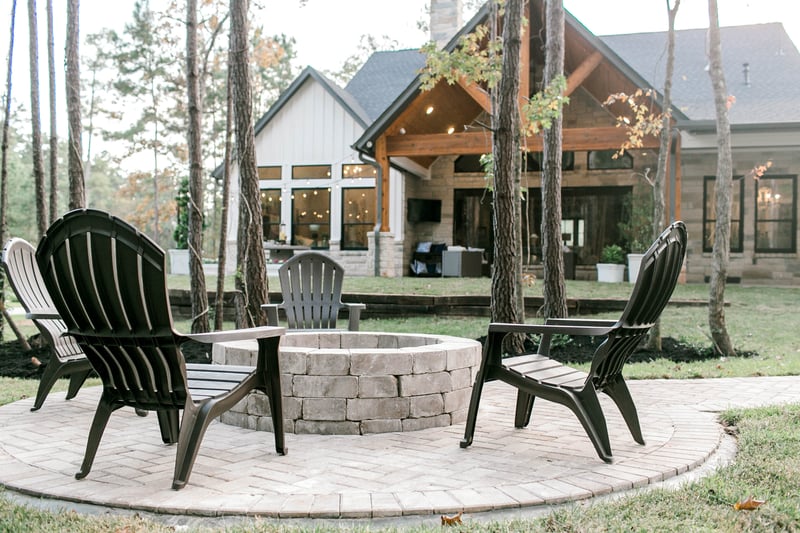 Interior Selections
Fireplace stone - Texas Grand Ranch Blend with cedar mantle
Interior door hardware from Kwikset in Ashfield
The interior components of this Southern Living home were carefully and intentionally selected. Everything from the door trim and chandeliers to the stained concrete works together to produce a cohesive home with a farmhouse feel like none you've seen before.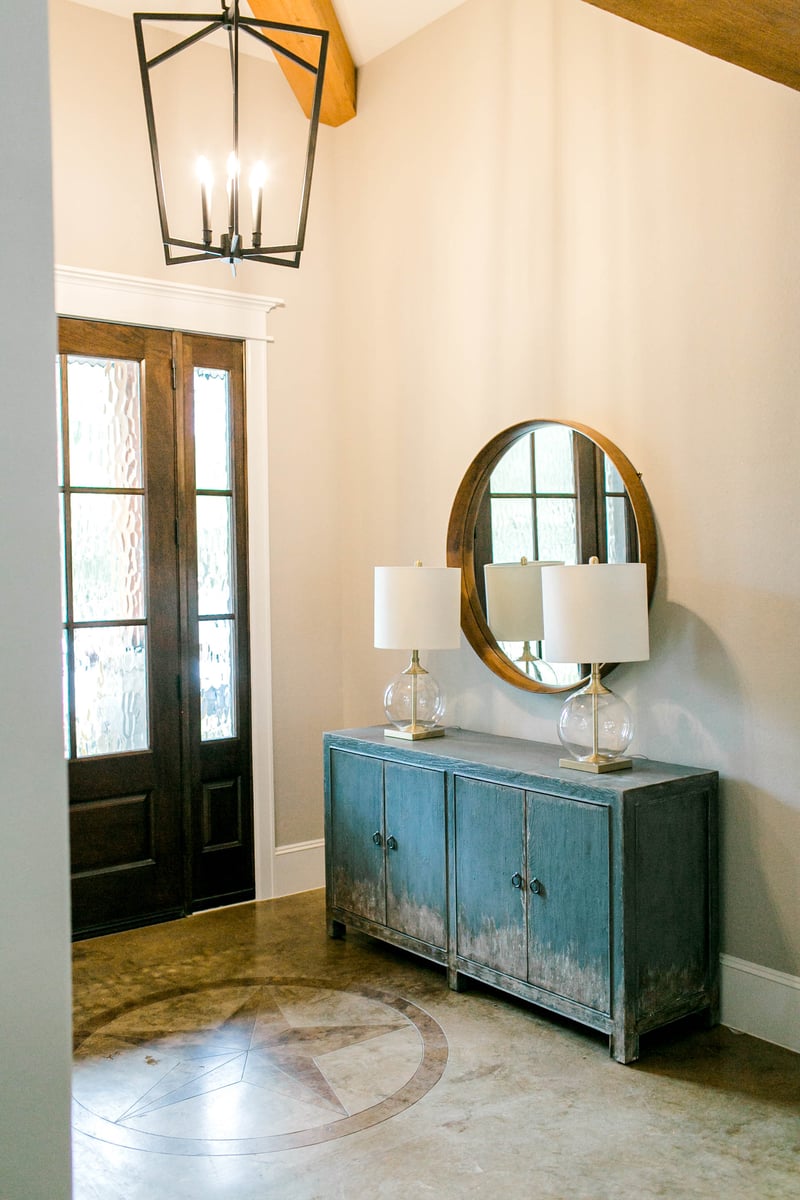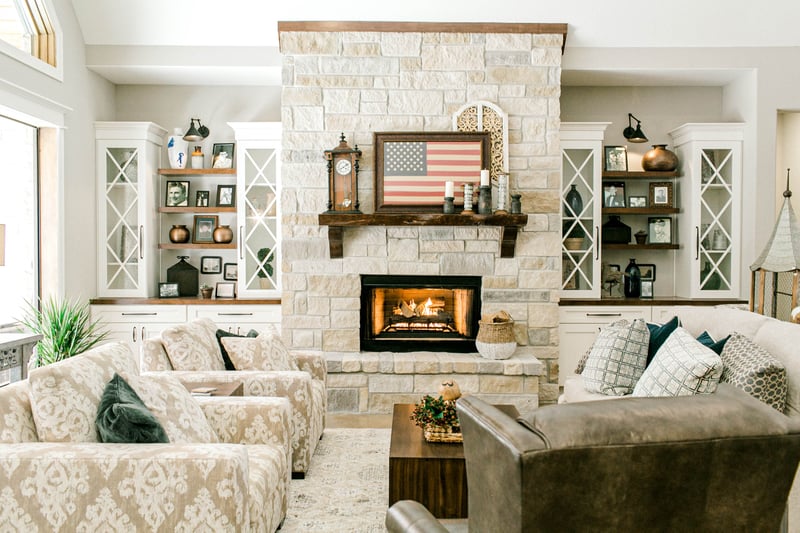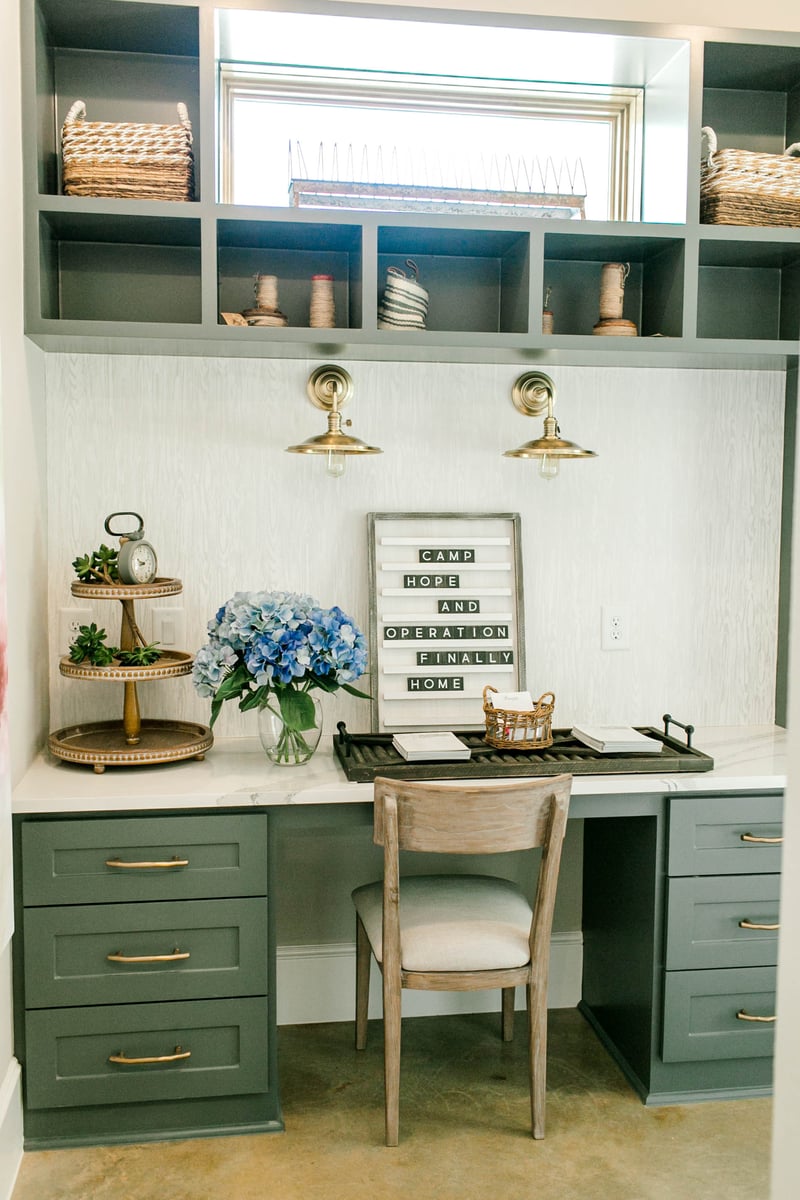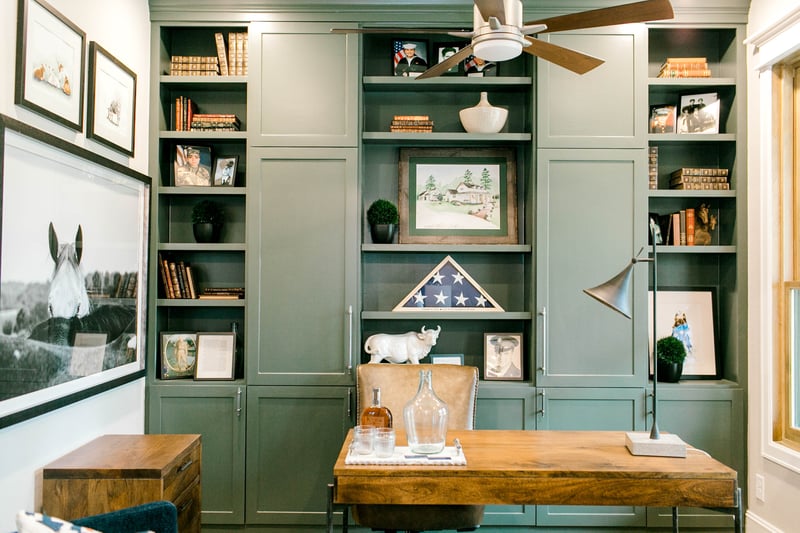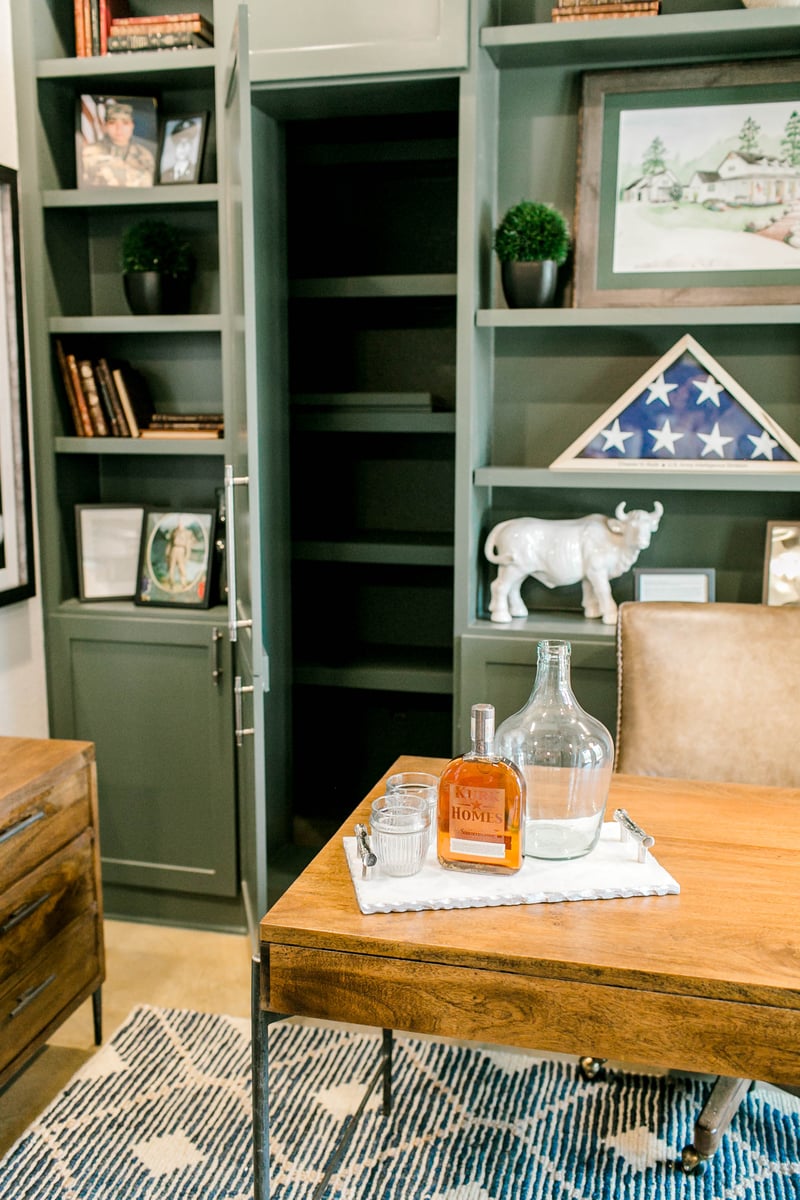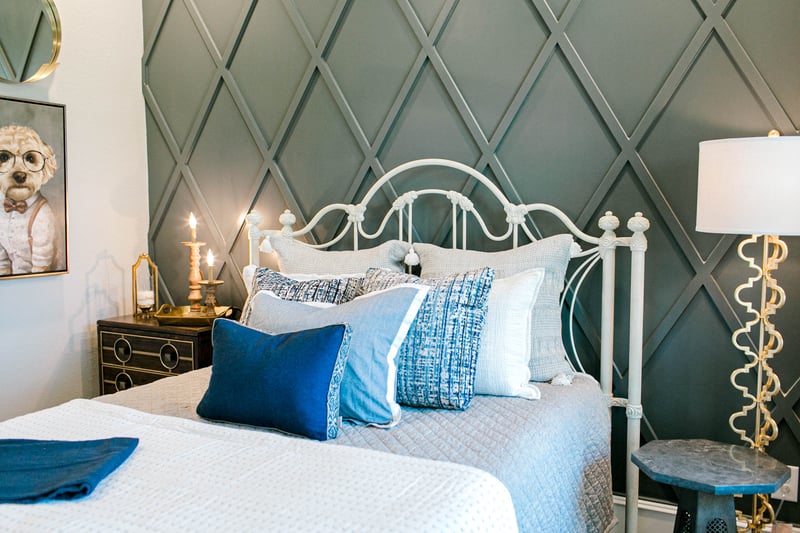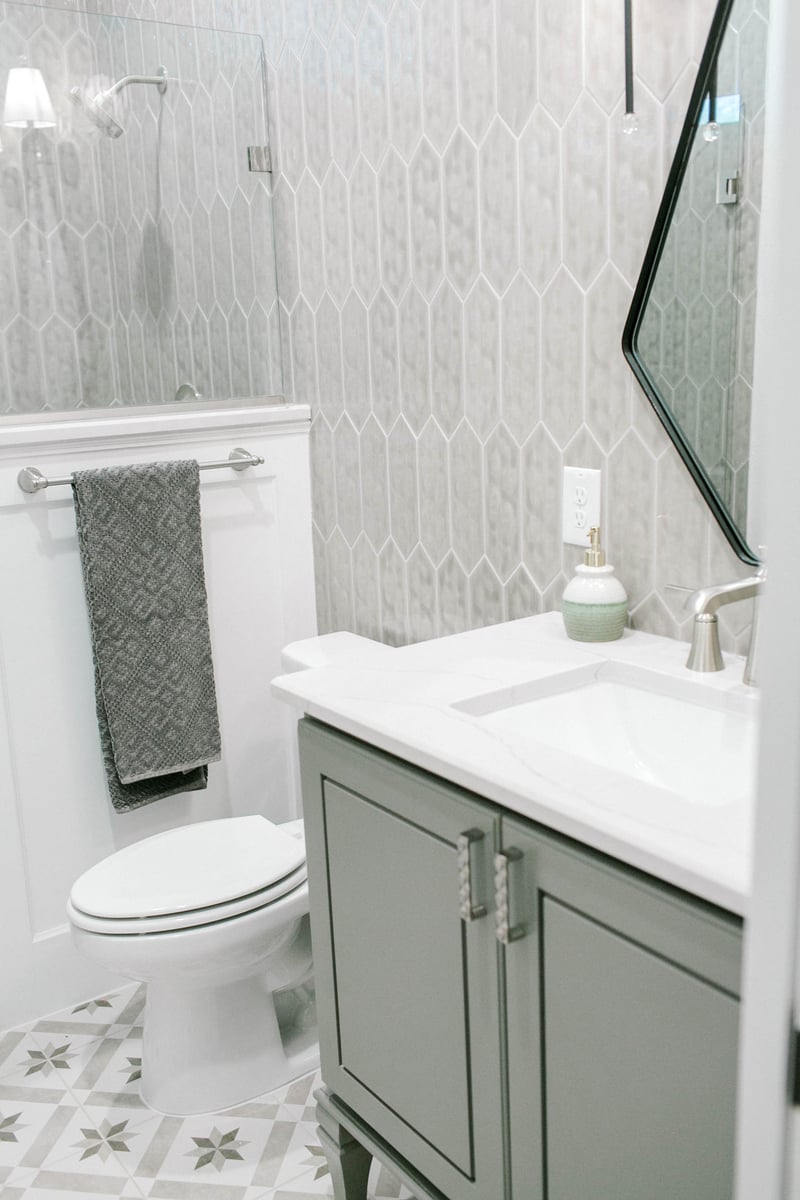 Kitchen Selections:
As the saying goes, "The kitchen is the heartbeat of the home." That's why we gave special attention to this area with pendant lights, Cambria countertops, cabinets to the ceiling, and breakfast seating at the island. Of course, no kitchen is complete without a pantry so we added built-in shelving and cabinetry to this Southern Living house plan.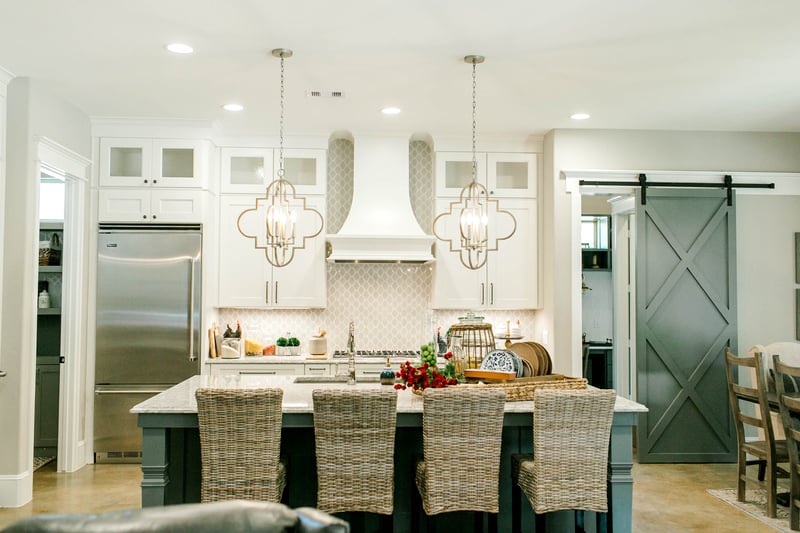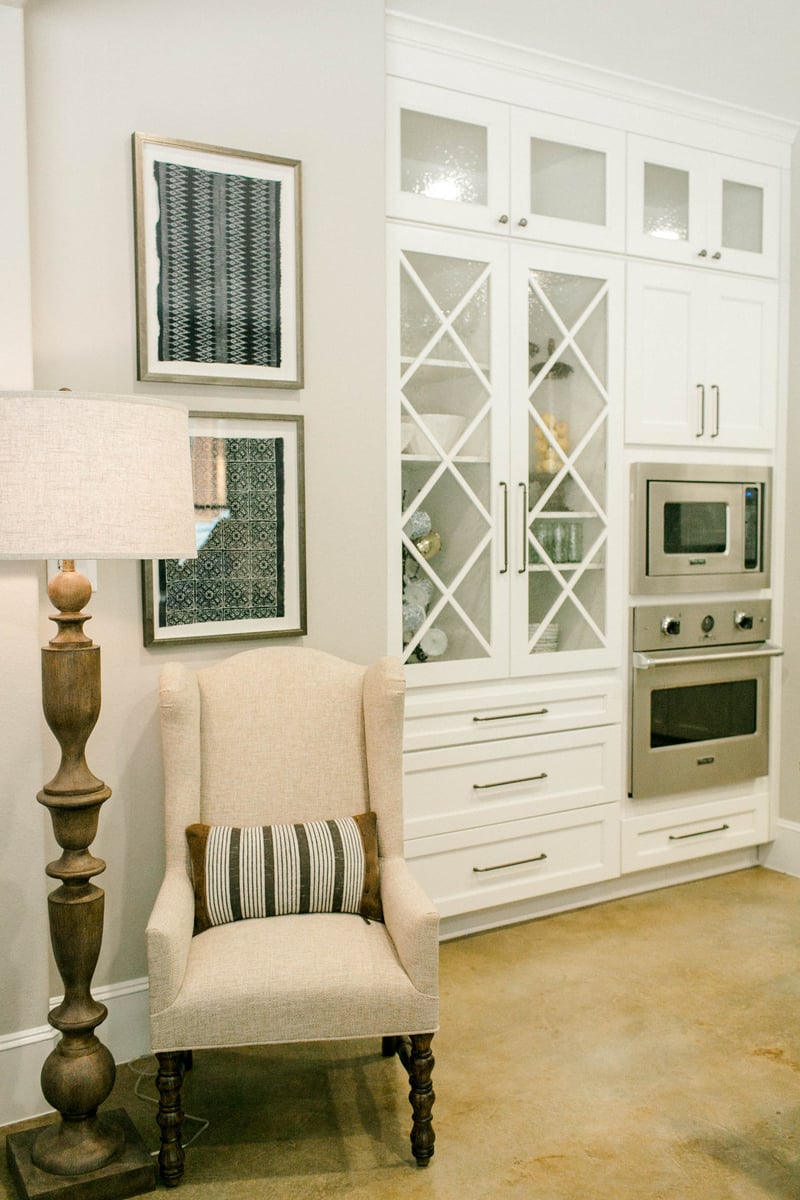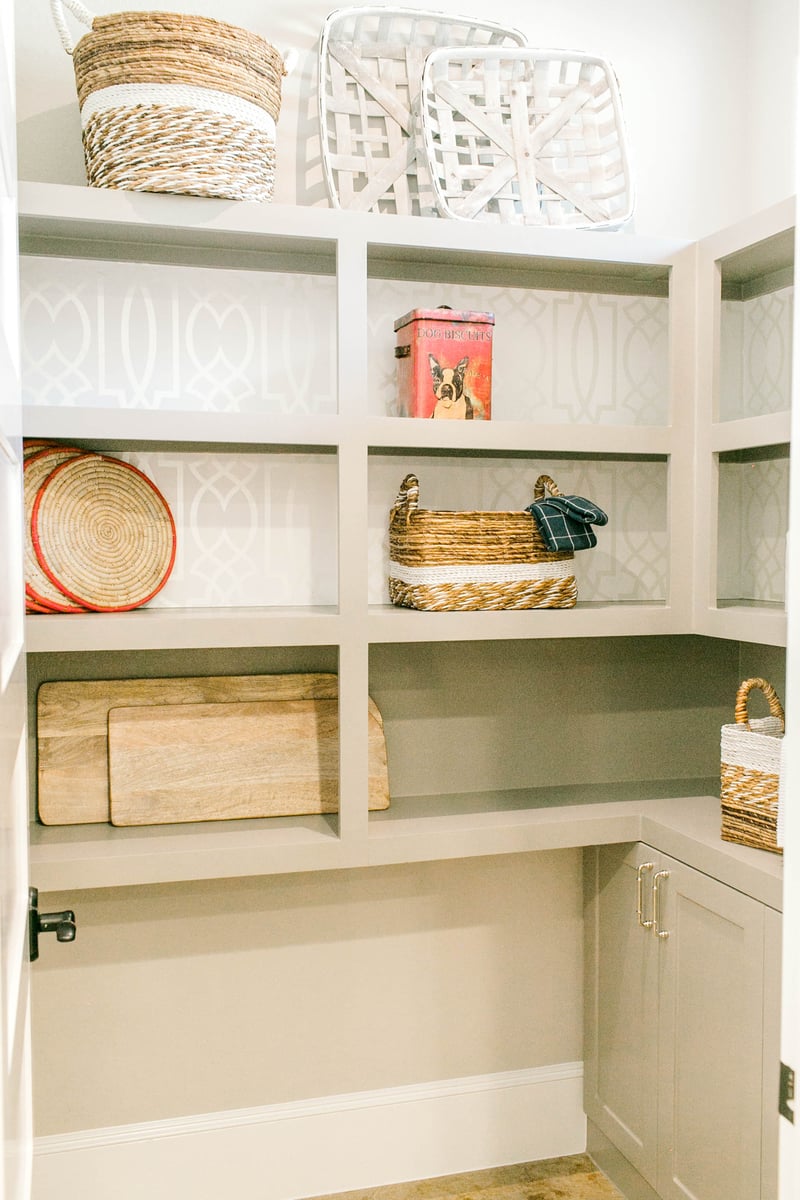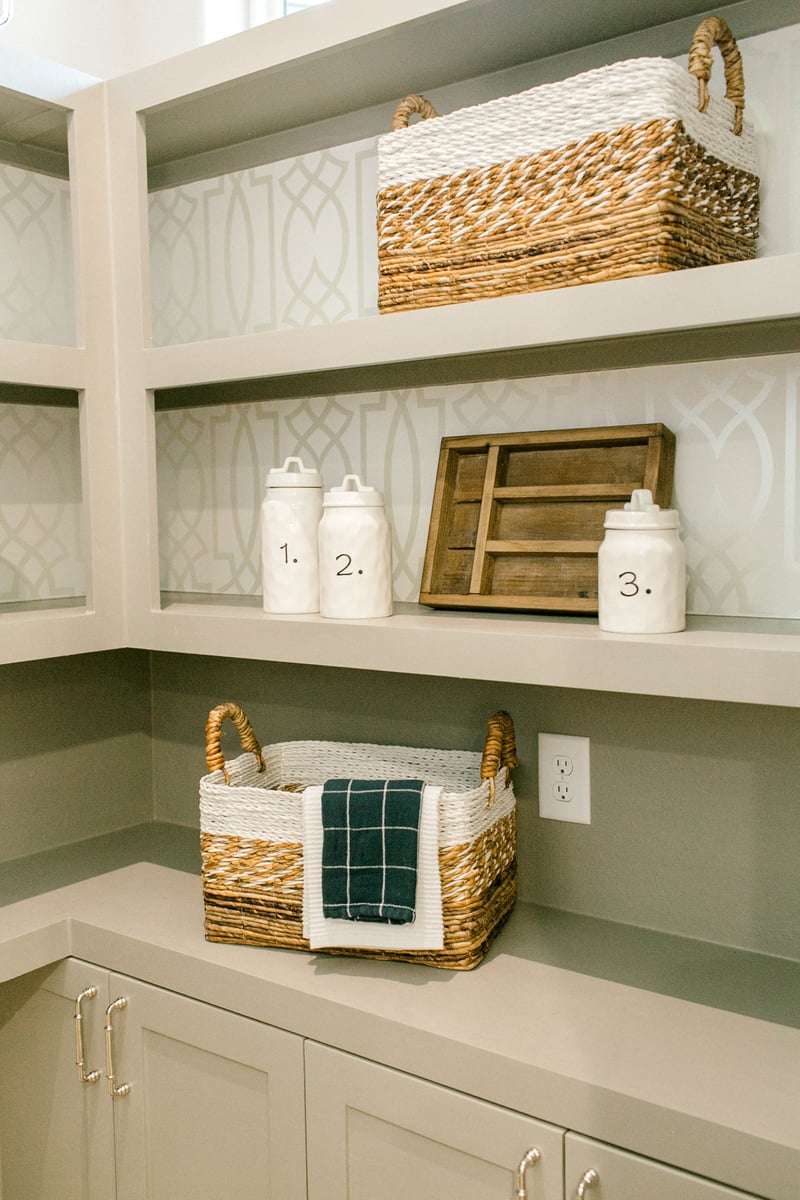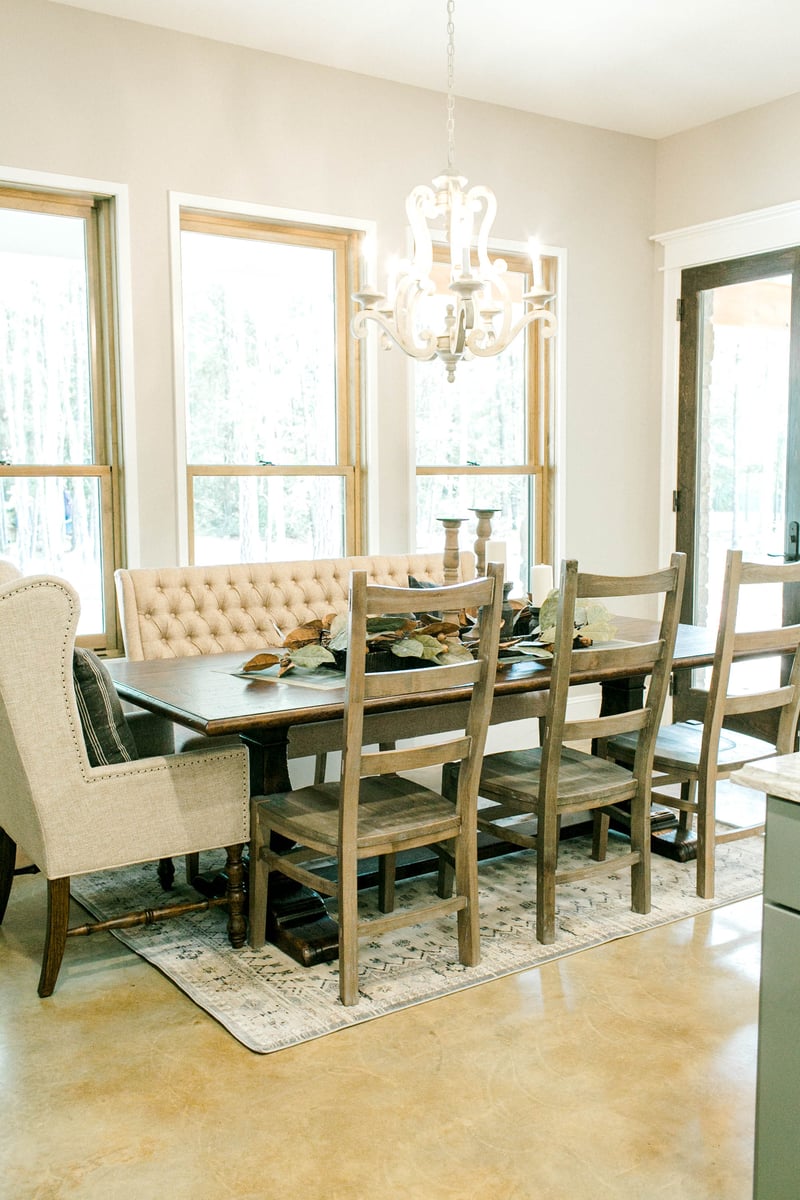 This utility room will make you want to do your laundry! Cabinetry and shelving make storing the necessities elegant and a farmhouse sink keeps you from running room to room.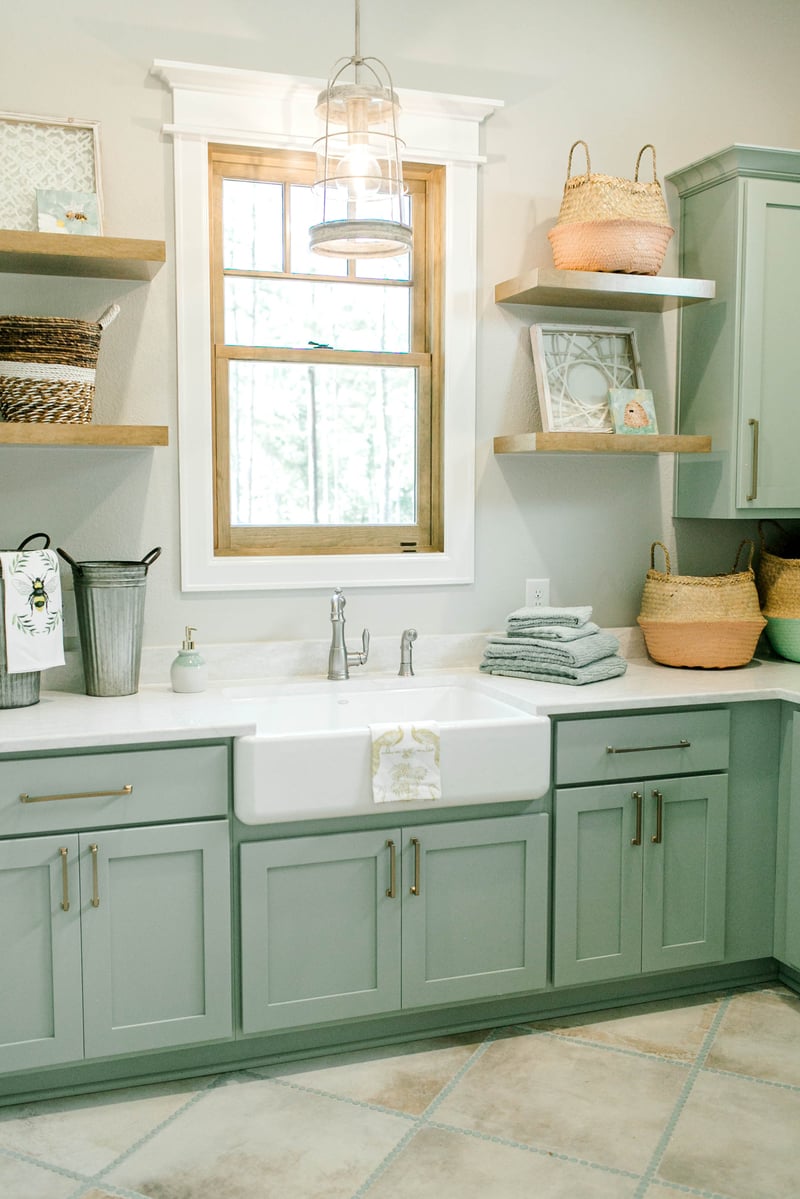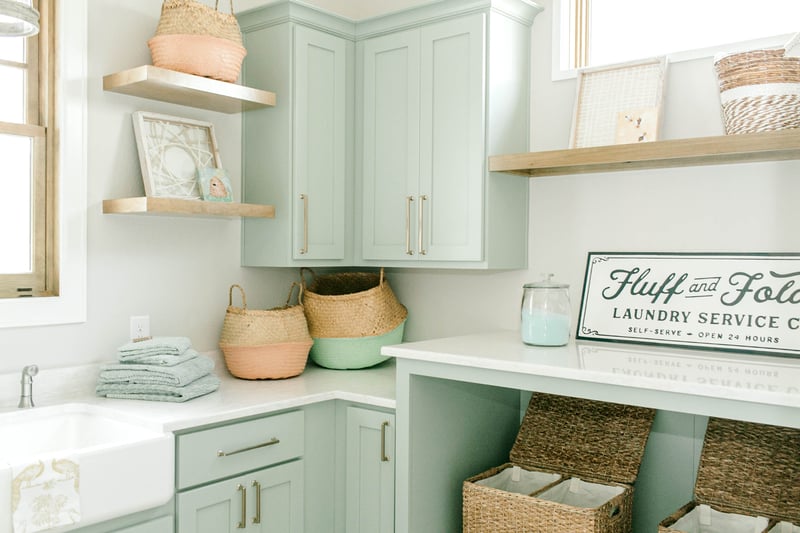 The master suite adorns a shiplap ceiling with large windows allowing nature to shine into the home. With a walk-in shower and free standing tub with Moen fixtures, you can get clean any way you please.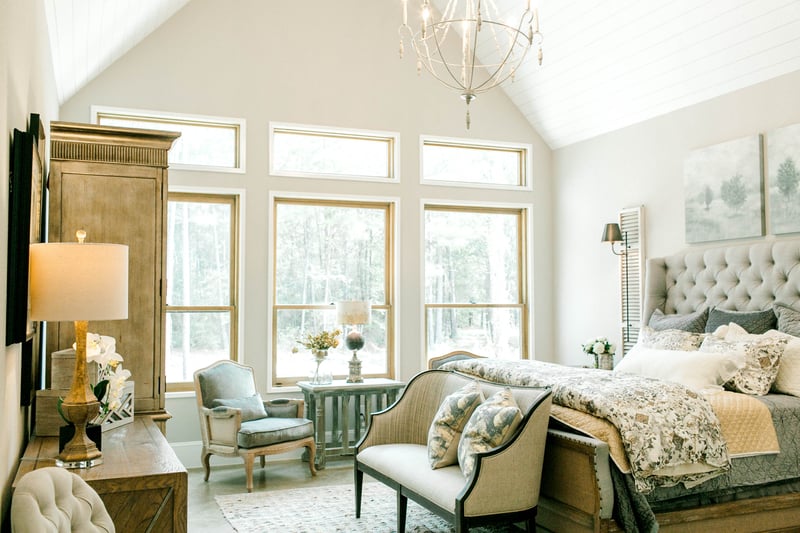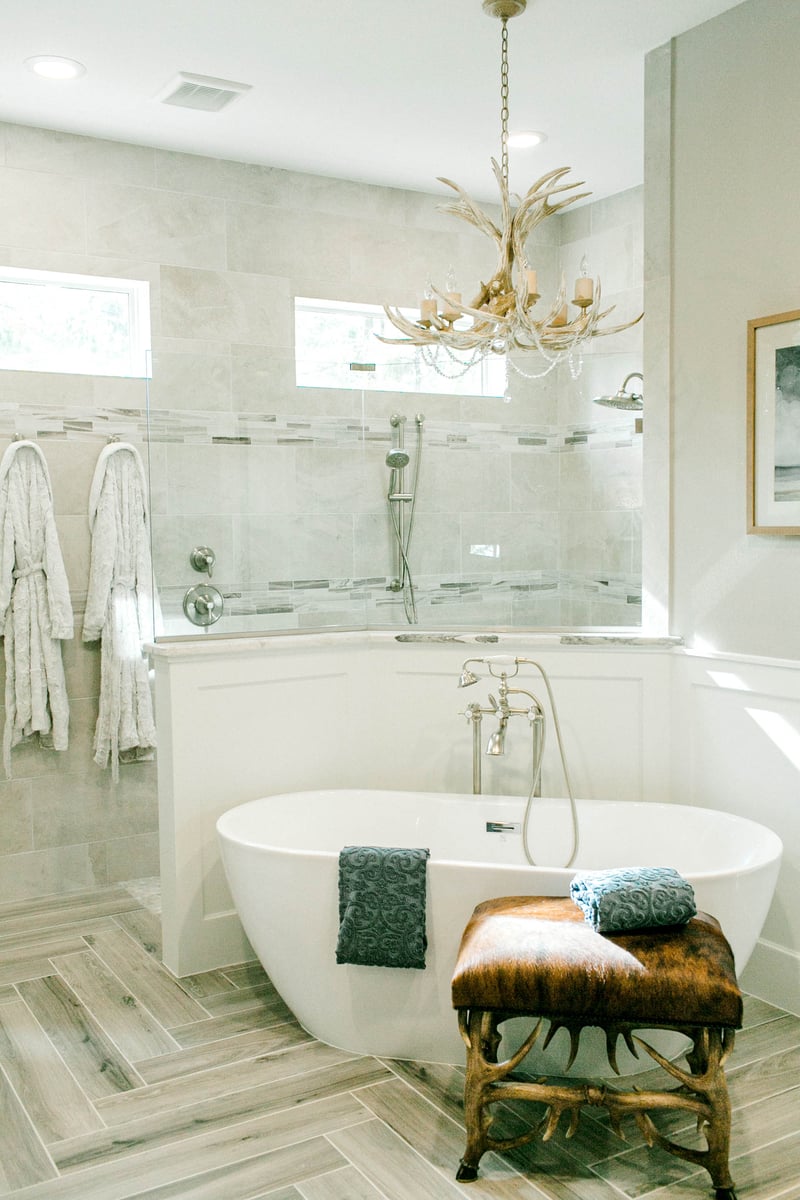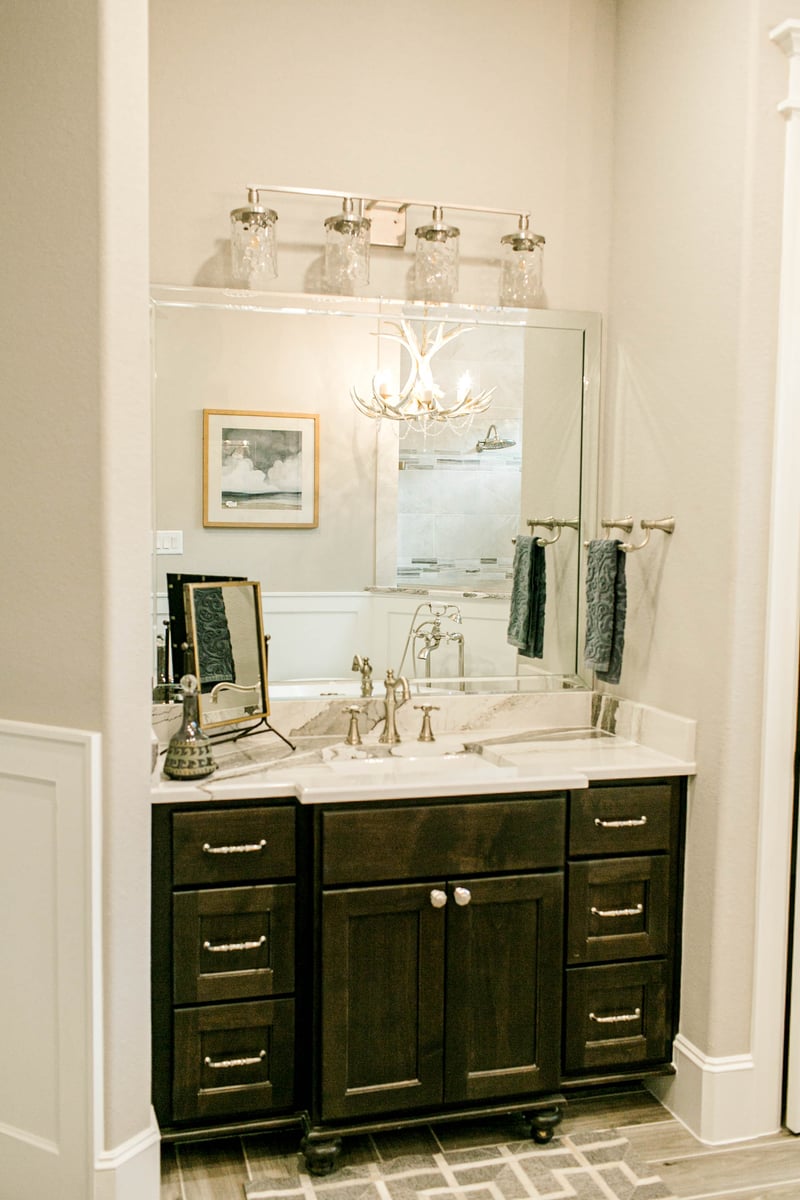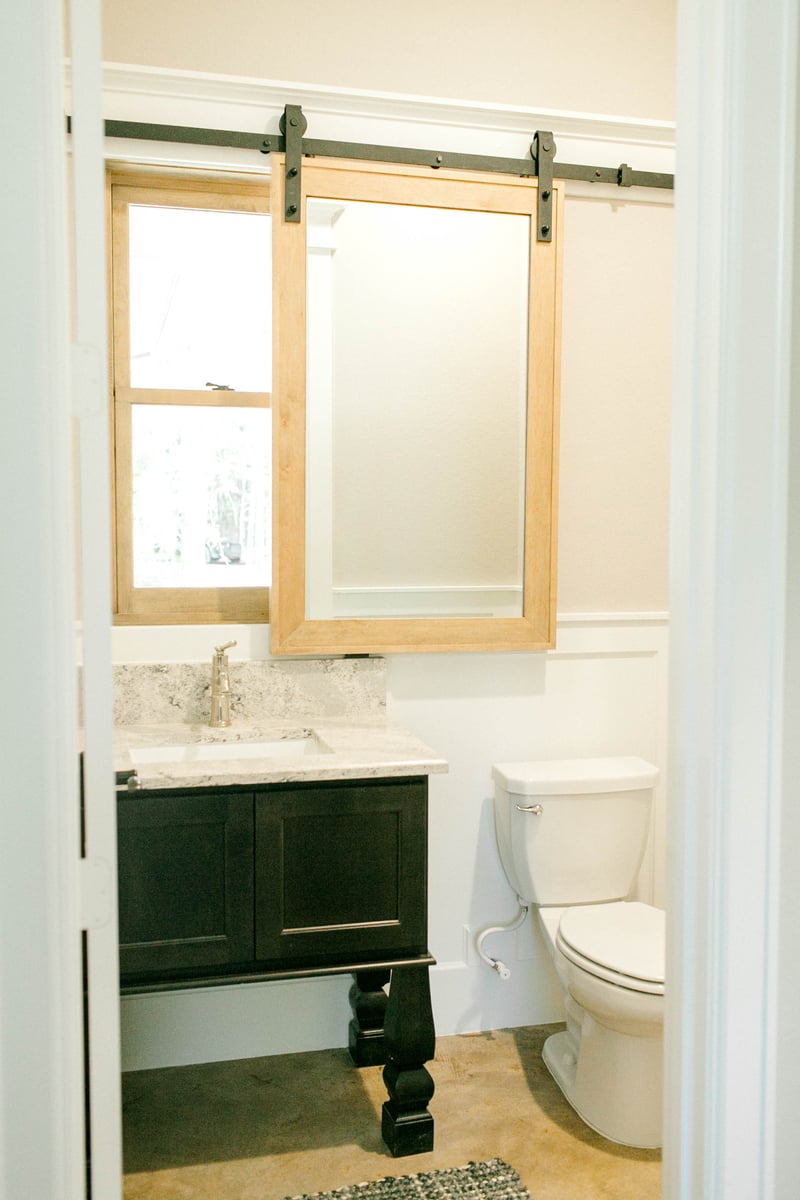 Casita Selections:
Moen Brantfors High Arch One Handle Kitchen Faucet
Ferguson Mirabelle Hibiscus Vessel Style Sink
Bathroom floor - Daltile Memoir Petal Black with Frost grout
Shower pan - Daltile Hexagon with Avalanche grout
Vanity backsplash - Daltile Jewel Tide with Black grout
Shower walls - Daltile Rittenhouse with Avalanche grout
Kitchenette backsplash - Daltile Cotton Classic Rounds with White grout
This casita is perfect for guests or as a mother-in-law suite with a full kitchenette and breakfast area. The bedroom in the casita has a full wall of shiplap with luxury vinyl tile throughout and floor to ceiling tile in the shower area.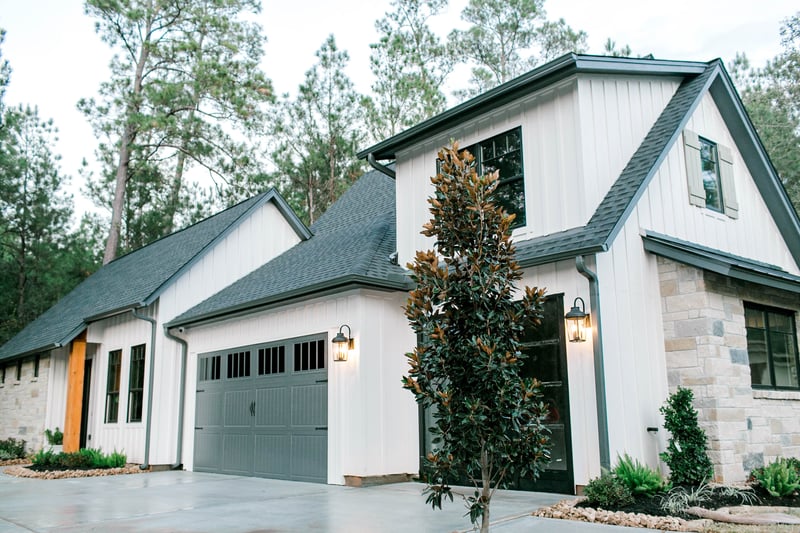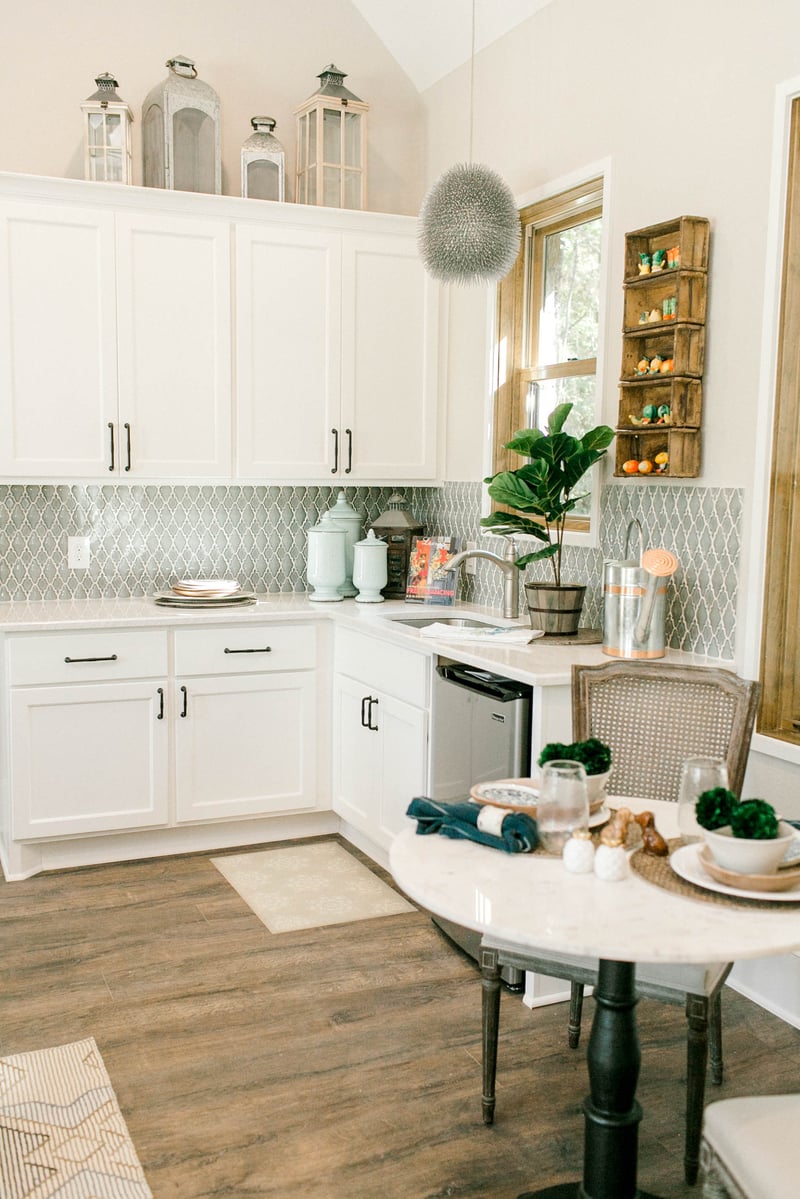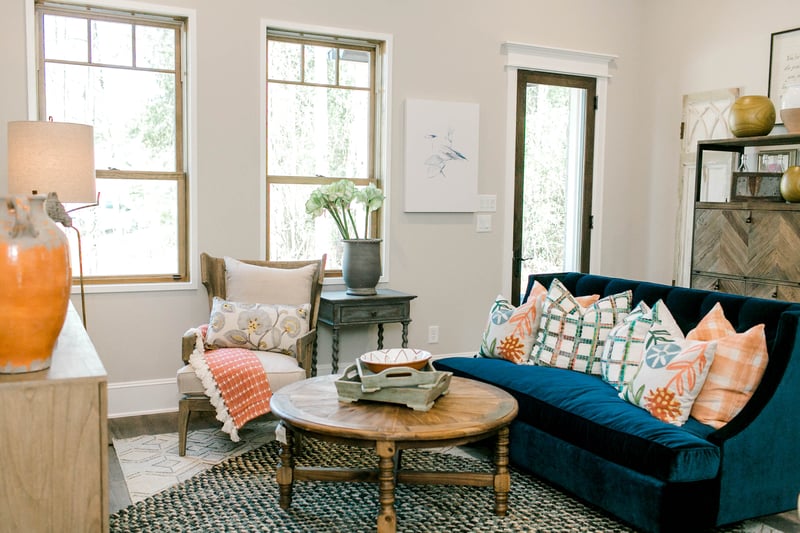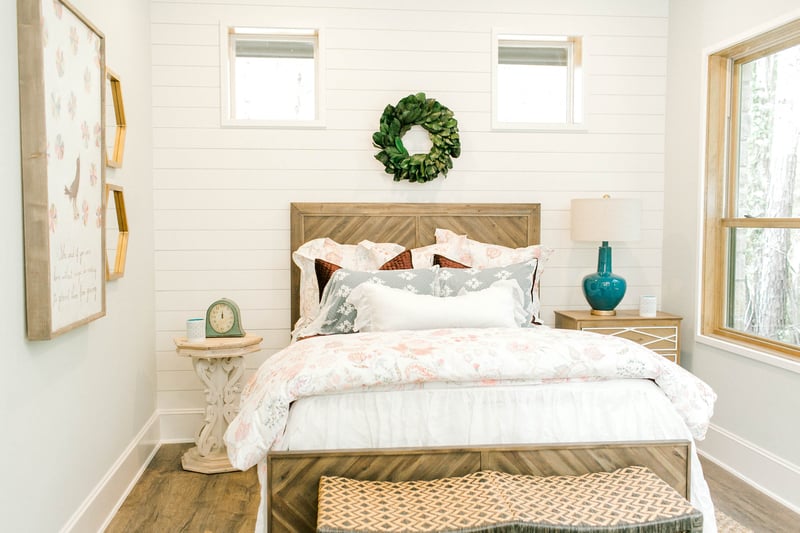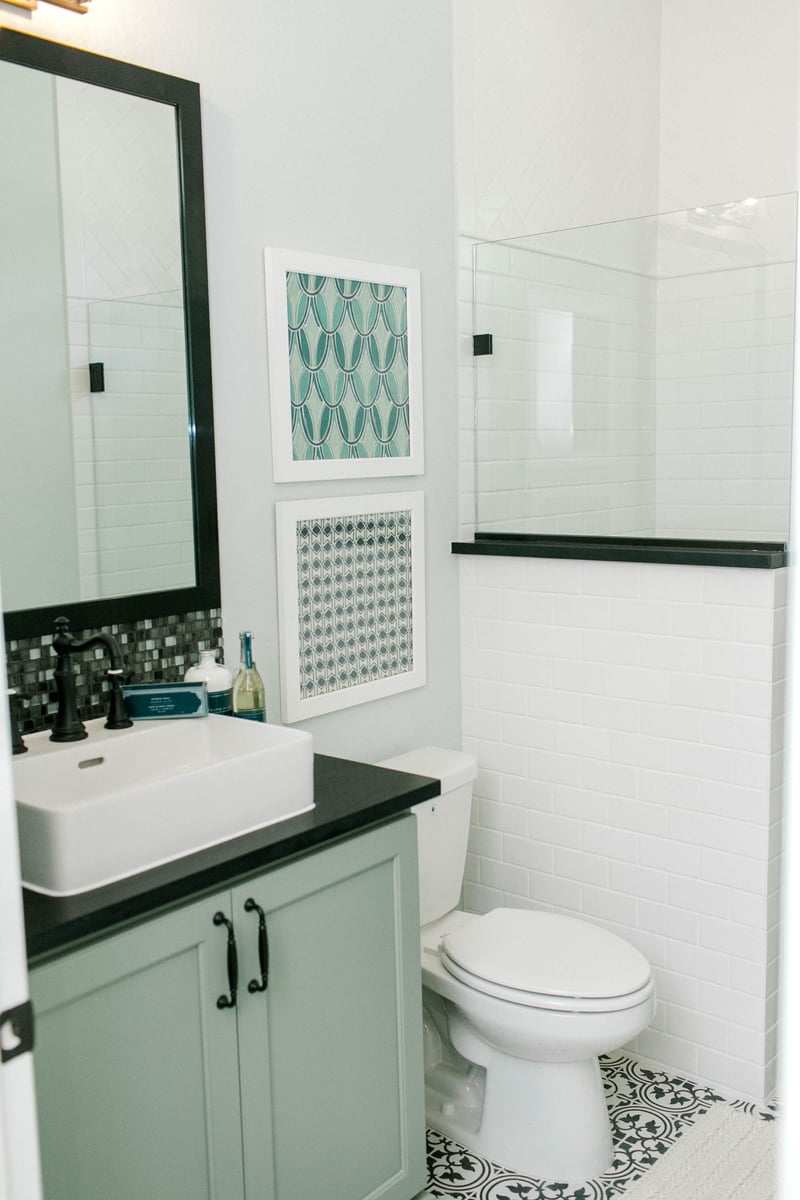 We love this project and the organizations we were able to support through the Southern Living Showcase Home program. With so many different features and textures, we were able to bring many styles and personalities into the home. If you're looking for Southern Living floor plans or are ready to build on your lot, contact us!
Kurk Homes, a Southern Living Home Builder
Kurk Homes is the only Southern Living home builder that offers a 20-year structural warranty on every home we build. We were selected to be a part of the Southern Living Custom Builder Program based on our community reputation, our superior quality and attention to detail, and the strength of our presence in the Tomball, Huntsville, and New Braunfels markets.
Contact us at 281-356-3314 to discuss Kurk Homes pricing, visit Kurk Homes models, or start your journey to owning your own Southern Living inspired home.
Last updated: November 12, 2021