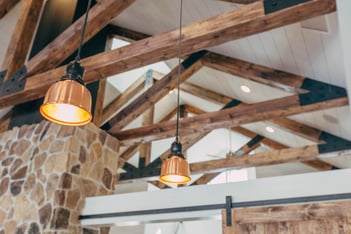 Setting a budget is always a tricky and exhausting affair when building a new home. It's a tough financial balancing act when determining where to splurge and where to save when constructing your custom home. Saving on some areas will help you avoid breaking the bank, but there are some areas where it will be hard to save. On the other hand, splurging on some areas will pay off in the long run since some of the selections you splurge on can add long-term value to your home.

When it comes to creating a budget for building a custom home in the vast and diverse landscape of Texas, there are a multitude of factors to consider. From the metropolitan buzz of cities like Houston and Austin, to the more tranquil surroundings of the Hill Country or Gulf Coast, each region to build a home comes with its own cost implications. The materials, labor, and design elements that suit a rocky Hill Country abode might differ significantly from those required for a coastal retreat in the Gulf.

In this comprehensive breakdown, we'll delve into the key aspects you need to consider when planning your custom home's finances in the Lone Star State. We'll explore where it makes sense to tighten your belt and opt for cost-effective solutions, as well as where sparing no expense could potentially yield remarkable with returns down the line.

But budgeting isn't just about dollars and cents; it's also about making informed decisions with high-quality construction that align with your vision and lifestyle. Whether you dream of a sprawling ranch-style estate or a modern urban oasis, the financial choices you make during this pivotal journey can shape not only the quality of your daily life but also the future resale value of your investment.

Join us as we navigate the intricate web of budgeting for a custom home in Texas, where the fusion of practicality, aesthetics, and regional nuances will guide us toward creating a dwelling that encapsulates the spirit of both Texas individualism and financial wisdom.
Where to Save When Building a Custom House
1. Finishes & Fixtures
The most logical things with which you can cut costs should be those that can be easily changed or replaced, or added in the future. When operating on a budget, you can save on last minute details such as the finishes and fixtures. You can always find a standard of something that you need to complete your home and then upgrade later on. For instance, many homeowners find that wood floors are priced out of budget, but they can select a stained concrete or carpet in the bedrooms first and change it later.
2. Layout & Design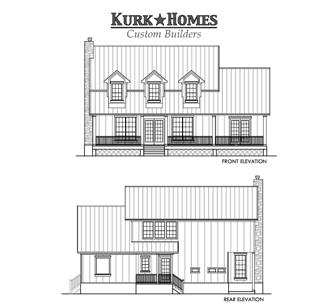 Typically, highly customized designs from an architect tend to cost more money. However, design/build companies have in-house designers and floor plans that can be made affordable. You can still find your preferred house design among these plans, or tweak existing floor plans, which will save you a lot of time and money as your builder can price out the plan while you are designing it.

Although plans from an architect may be tempting, try to balance the benefits of acquiring such a breathtaking floor plan with the cost of creating it. When you build with Kurk Homes, the design of your homes comes free!
3. Function vs. Space
You should always opt for functionality over space. Technically, the bigger the house you build, the higher the cost. Try to focus on the features of the home and layout rather than size. Instead of making a bigger house, build the most efficient home. A talented plan designer will help with the layout of rooms to reduce hallway or empty space, and add rooms or powder bathrooms under staircases to save on costly square footage. An open floor plan will also appear larger than one that has many walls to separate rooms.
4. Appliances
While it's crucial to have functional appliances in your home, consider prioritizing mid-range models over top-of-the-line options. These appliances offer the essential features you need without the premium price tag. You can gradually upgrade appliances as needed over time, enjoying modern conveniences while spreading out the expenses. Key points:
Cost-Effective: Mid-range appliances offer quality without the high price.
Essential Features: They have core functionalities for daily tasks.
Long-Lasting: They're designed for reliable performance.
Flexible Upgrades: Replace appliances one by one as required.
Maintenance: Repairs are more affordable due to standardized parts.
By choosing mid-range, you strike a practical balance between function and affordability.
5. Countertops
While natural stone countertops can add elegance to your kitchen and bathrooms, consider more budget-friendly alternatives like quartz. These materials offer durability and a polished look without the high price tag of premium stones. Choosing these options can free up your budget for other important aspects of your home while still achieving a sophisticated appearance.
6. Flooring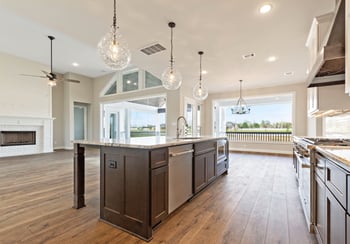 When it comes to flooring choices, reserve premium materials like hardwood or natural stone for high-traffic areas like the living room or kitchen. For areas with less foot traffic, such as bedrooms or studies, consider selecting cost-effective flooring options like luxury vinyl plank. These materials can mimic the appearance of pricier alternatives while providing comfort and durability at a fraction of the cost.
7. Cabinets
Cabinets play a significant role in both function and style, but there's no need to splurge on intricate designs and premium finishes. Opt for cabinets with a simple yet timeless design, and choose standard finishes that complement your overall aesthetic. To elevate their appearance, invest in high-quality hardware, such as handles and knobs, which can be easily replaced or upgraded in the future.
8. Lighting Fixtures
Instead of splurging on high-end lighting fixtures, consider opting for more budget-friendly options. Lighting fixtures can easily be replaced or upgraded later without a significant impact on your initial home building budget.
Room-by-Room Approach: Prioritize where you want to allocate your lighting budget. Consider investing in more decorative fixtures for focal areas like the dining room or entryway, while opting for basic fixtures in less prominent spaces.
Future Upgrades: Understand that lighting fixtures are relatively easy to replace or upgrade in the future. This flexibility allows you to start with more cost-effective fixtures during the initial construction phase and later replace them with higher-end options as your budget allows.
9. Carpentry Details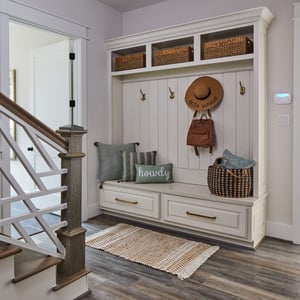 While custom carpentry can add a unique touch to your home, it can also be costly. Homeowners can save money by choosing standard trim and molding options. A common way to enhance these features is with paint or other finishes that achieve a personalized look.
10. Paint and Wall Coverings
Paint is one of the most cost-effective ways to transform the look of your home. Consider saving on initial painting costs by choosing standard paint colors and wall coverings. You can always repaint or add wallpaper accents in the future to refresh your space. Consider selecting high-quality, washable paints for areas with heavy traffic, as this can save you money on repainting and maintenance in the long run.
Where to Splurge When Building a Custom House

1. The Kitchen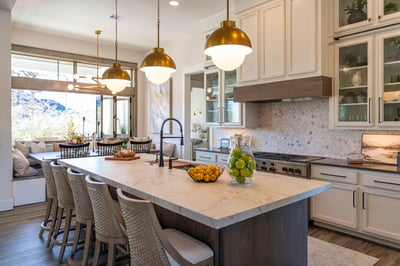 Your kitchen is still considered the heart of your home. This is the place where you will cook and dine with family and friends and spend all the special moments and holidays of your life. If you consider the amount of time spent in the kitchen, you'll see sense in the amount of money spent here.

Here are some things to think about while designing your kitchen:
What's the most efficient layout for the way you cook and entertain?
Do you need more than one dishwasher?
What unique finishing touches reflect your style?
2. Insulation, Windows, and Doors
Don't be afraid to spend more on the permanent parts of your house such as the insulation, windows and doors. Keep in mind that these are features that will always keep your home safe, structurally sound and secure. High-quality and energy-efficient insulation, doors and windows will always recoup upfront costs more quickly since they help you save on your heating and cooling costs.

Here are some areas in which you can create an energy-efficient home:
Insulation: Proper insulation in your walls, attic, and floors helps maintain a consistent indoor temperature, reducing the need for excessive heating or cooling. This can significantly cut down on energy consumption.
Windows and Doors: Install energy-efficient windows and doors with proper seals to prevent drafts and heat transfer. Double or triple-pane windows with low-emissivity coatings can greatly improve thermal efficiency.
Heating and Cooling Systems: Choose energy-efficient HVAC systems that are properly sized for your home. Regular maintenance, including cleaning or replacing filters, can ensure optimal performance.
Thermostat Control: Install a programmable or smart thermostat to regulate indoor temperature based on your schedule. This prevents unnecessary heating or cooling when you're not at home.
Appliances: Opt for energy-efficient appliances with the ENERGY STAR label. These appliances are designed to use less energy while providing the same level of performance.
3. Storage Space & Flex Rooms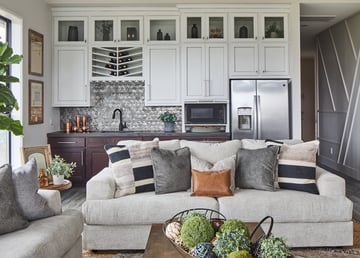 It's common knowledge that you will acquire more and more as long as you live in your home. As the family grows, you'll have more clothes, children or grandchildren's toys, plus sports and lawn equipment. Spending more on storage space is always an excellent investment for the future. Inside the home, you can add a multi-purpose "flex space," either finished or unfinished, that can serve many uses.

We've seen homeowners use flex rooms as freezer and extra fridge space and kitchen overflow, Christmas and holiday storage, a wrapping room, a dog or a cat room, an exercise room, an extra bedroom or bunkroom, as well as overflow from bedroom closets. Extra storage space in the garage can house sports and landscape equipment as well as camping, hunting, fishing, or general outdoor gear.

When you build your home, you don't want to also have to pay for storage space, so we recommend finding or creating a functioning plan that will house all of your current belongings neatly in the new home!
4. Landscaping & Outdoor Living Spaces
Investing in landscaping and outdoor living spaces can significantly enhance the curb appeal and overall enjoyment of your home. While it might be tempting to save on landscaping, a well-designed outdoor area with quality plants, hardscaping, and outdoor amenities can increase the value of your home and create a beautiful environment for relaxation and entertainment.

Whether it's a well-maintained garden, a cozy patio, or a functional outdoor kitchen, these elements can contribute to the overall aesthetic and lifestyle of your property.
5. Owner Suite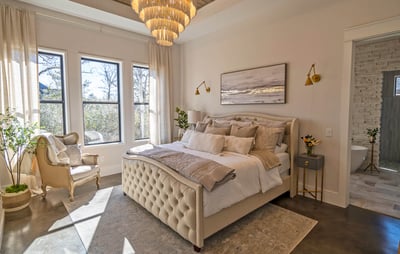 Your owner's bedroom and bathroom should be a sanctuary within your home. Splurge on high-quality materials, fixtures, and finishes in your master suite to create a luxurious and comfortable space where you can unwind and rejuvenate.
Consider splurging on a spacious walk-in closet with custom storage solutions, providing ample room for your wardrobe and accessories.
Elevate the ambiance with a cozy fireplace, creating a warm and inviting atmosphere for relaxation.
Invest in blackout window treatments and soundproofing to ensure a restful night's sleep and a tranquil retreat within your home.
6. Bathrooms
Just like the kitchen, bathrooms are essential spaces in any home. Consider splurging on high-quality fixtures, tiles, and finishes for your bathrooms. Upgrading your bathrooms with luxurious features like spa-like showers, elegant bathtub designs, and premium countertops can provide a sense of comfort and luxury that adds value to your daily life and potential resale value.
7. Technology & Smart Home Features
Incorporating smart home technology into your new home can be a worthwhile investment. Smart thermostats, lighting systems, security cameras, and integrated home automation can enhance your home's efficiency, security, and convenience. While these technologies might have an upfront cost, they can lead to long-term savings on energy bills and provide an elevated living experience.
8. Customization and Unique Features
If there are specific features or design elements that resonate with your personal style and lifestyle, don't be afraid to splurge on them. Customization can make your home truly unique and tailored to your preferences. Whether it's a special architectural detail, a unique fireplace design, or custom built-ins, these elements can set your home apart and create a sense of individuality.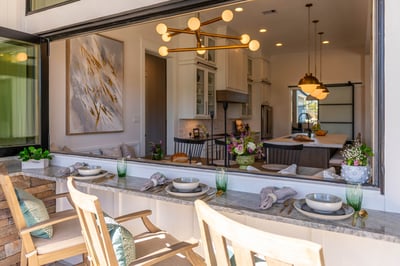 When it comes to your home, embrace the chance to invest in features that resonate with your style and lifestyle. Customization adds a unique touch, reflecting your individuality. Here's how:
Distinctive Architecture: Unique details like ornate ceilings or elegant archways bring sophistication.
Signature Fireplaces: Choose a design that becomes a focal point, blending seamlessly with your style.
Tailored Built-Ins: Functional and aesthetic, these pieces maximize space and cater to your needs.
Personal Color Palettes: Colors that resonate with you set the right mood.
Outdoor Appeal: Craft outdoor spaces that align with your lifestyle, from decks to landscapes.
Artistic Flair: Display custom art that reflects your taste and creativity.
Investing in customization not only adds value but creates a space that's unmistakably you.
9. Home Theater or Entertainment Room
If you're a movie buff or love entertaining guests with multimedia experiences, consider splurging on a dedicated home theater or entertainment room. Investing in top-notch audiovisual equipment and comfortable seating can provide years of enjoyment. Also consider investing in acoustic treatments and soundproofing to create a home theater or entertainment room with immersive audio quality and minimal sound disturbance to the rest of the house.
10. Home Office
In today's flexible work environment, a well-designed home office is a valuable addition. Splurge on creating a functional and aesthetically pleasing home office space. Invest in ergonomic furniture, soundproofing, and tech integration to create a productive work environment that seamlessly blends with your home's design.

In the end, the key is finding the right balance between splurging on areas that matter most to you and saving on areas that can be upgraded or modified in the future. Building a home involves making a series of decisions, and carefully considering where to allocate your budget can help you create a home that aligns with your vision and financial goals.

The adventure awaits, and we invite you to reach out, to share your dreams, and to embark on this journey together. Let's collaborate to create a dwelling that marries the principles of financial prudence and aesthetic excellence. Your vision, combined with our expertise, will shape not just a house, but a haven where life's most cherished moments unfold.

Contact us today, and let's begin the exciting voyage of designing your custom home in Texas. Your aspirations are our inspiration, and together, we'll craft a masterpiece that stands as a testament to your unique style.
Last updated September 15, 2023.