Kurk Homes was selected to be a part of the prestigious Southern Living Custom Builder Program in 2017. With this designation, we are able build the homes of our clients' dreams with beautiful Southern Living house plans that are customized to each family's specifications. The construction of a Southern Living design will allow you to express the heritage and traditions of the South through one of the most important investments you will ever make — your home!
Whether your dream is a low-country cottage or a farmhouse revival with a magnificent covered wraparound porch, Kurk Homes is ready to work with you from the first ideabooks and sketches until the moment you are handed the keys to your beautiful new home.
How Southern Living House Plans Work
The Southern Living brand, which is part of Time Inc., has more than 1,000 exclusive house plans available in a variety of styles. As a Southern Living Custom Builder, Kurk Homes is authorized to build your home from any one of these plans. As requested, Kurk Homes will purchase a selected set of plans from Southern Living and then modify those plans as needed to suit your lifestyle. The plans are a set of blueprints that will be used as the basis for building your Southern Living home.
Southern Living House Plan Costs with Kurk Homes
Most of the plans from Southern Living range in price from $500 to $5,000, depending on the set you order. Kurk Homes plans are FREE when you build with us. Kurk Homes requires a $2500 non-refundable retainer to get started on the plan design process, which is credited back to you in full upon signing the build contract. This is a significant cost savings over hiring an architect to design your house plans, which can run as high as 12 percent of the final construction cost.
Customization of Southern Living House Plans
Southern Living house plans are not "set in stone." The finished product will be your home, so you can request modifications to any plan for an additional fee. Here are some examples of features that can be altered on a plan:
● Foundation type
● Ceiling heights
● Exterior materials
● Exterior wall framing
● Interior walls and room dimensions
● Roof pitch
You can also add, eliminate or alter the size of bedrooms, bathrooms and a porch when you modify the plan with Kurk Homes. While this will double or triple the total price of the plan with other builders, Kurk Homes does not charge for these changes, and in the end, you will have a one-of-a-kind Southern Living home.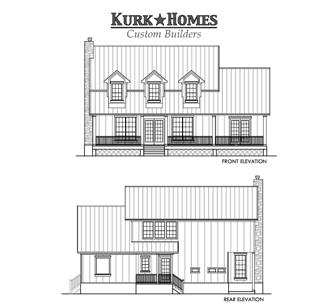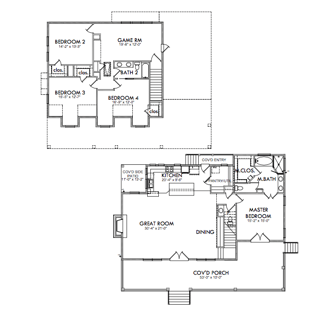 The Kurk Homes Lodge Plan
Construction Costs for Southern Living Homes
The total construction cost of a Southern Living home varies depending on the plan you select, required construction materials and other factors. Kurk Homes will work with you to provide a rough estimate or cost-per-square-foot to build your home.
Contact Kurk Homes Today
Kurk Homes is the only Southern Living builder that offers a 20-year structural warranty on every home we build. We were selected to be a part of the Southern Living Custom Builder Program based on our community reputation, our superior quality and attention to detail, and the strength of our presence in the Houston, Magnolia and New Braunfels markets. We have model homes for you to view in these communities! Call us at 281-356-3314 to discuss your journey to owning your own Southern Living home.