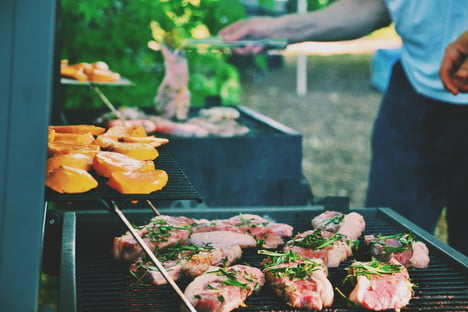 Summer can be the perfect time to grill outdoors. But if you don't have the right space to grill in or you aren't sure what to make, you might find that the experience isn't as nice as you would have hoped. Fortunately, there are plenty of ways to make your space better and a lot of good recipes to experiment with during the warm days and comfortable evenings. Here are some of the best recipes, grilling ideas and picnic suggestions, along with a couple of tips to make your grilling space more comfortable and convenient.
Ready for Ribs? Here's How to Make Them Taste Amazing
Whether you plan to make spareribs or baby back ribs, there are plenty of options to consider. There are two common ways to make ribs taste great. You can marinate them, or you can season them. Both work well, and it just depends on what you really want from your ribs. Dry rubs are popular in some areas, and wet marinades are also excellent options. How the ribs are cooked affects the flavor and the tenderness, with a lot of people cooking ribs more slowly to keep them moist and juicy. Grilling ribs gives a high level of flavor, too, so you have a lot of different cooking and seasoning choices to consider.
Everybody Loves Potato Salad and Side Dishes
Maybe not everyone loves potato salad, but there are a lot of other side dishes to choose from and enjoy, as well. If you like potatoes, you would rather have coleslaw, or there's something else that sounds good for your summer grilling, choosing the right recipe can give you a great-tasting option that your family and guests will enjoy. With a few easy recipes for summer cooking, you can make more than one side dish and let everyone who comes to eat with you choose the thing they like the best.
Don't Forget a Cocktail to Go with Your Barbecue
Not all your guests will want to have a drink, but some of them might. A cocktail with your barbecue can be a nice way to relax on a summer evening. Choosing which cocktail to make is a matter of preference. Your friends and family might all like something different, or you can make a pitcher of a tasty beverage to share with others. Finding out what everyone wants ahead of time can make your grilling experience a great one.
A Chilled Summer Pie Can Be an Excellent Dessert
What's a good summer meal without dessert? A chilled summer pie can be the right choice. It's light and tasty, and it's also a refreshing way to have a sweet treat after the grilling is done. You can even make several smaller pies, so your family and friends can choose the one they like the best. With different flavor options, you can enjoy a few different bites after dinner and spend time with your loved ones, too.
Where You Grill and Eat Matters, So Make it Look Great
Your porch, patio or other summer cooking location may get a lot of use when it's warm and comfortable outdoors. Whether you're grilling for just a couple people or you have a big family or a large group of friends, you can make a cozy and inviting space everyone will like. Plenty of seating and eating space, cheerful colors, and shelter from the weather all go a long way to provide a great space to enjoy outdoor cooking and time with the people you care about.
Having a great home, porch and grilling location can make cooking outdoors much more fun. At Kurk Homes, we are #BuiltOnTradition and we have been designing and building from the Gulf Coast to the Hill Country for nearly 30 years. Let us help you create a home that will give you plenty of opportunities, so you can focus on more important things — like what's cooking!