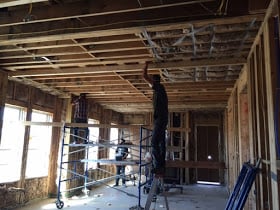 Deciding whether to remodel or rebuild your home is a difficult decision. When considering how to achieve the home of your dreams — with a renovation or a complete rebuild — visualize your ideal home, evaluate the existing structure's condition and capabilities, remember your finances, and think about what a renovation or rebuild entails.
To Renovate?
Pros:
By strategically rearranging your furniture, things and living space, you can usually continue living in your home during construction.
Your new house will still feel similar to your old home, but greatly refreshed and with much-needed updates.
Time-wise, remodeling is usually a significantly quicker process. A remodel typically requires fewer building permits (if any) and usually has shell to start from, unlike beginning from the ground up.
Depending on the extent of the renovation, remodeling typically costs less than a complete rebuild. Renovation costs often start around $20,000 and increase with complexity.
Cons:
If you live in your home during a renovation, then you will experience some inconvenience. You will have limited space and less privacy with contractors in your home day in and day out. Depending on the type of remodel (roof replacement, window changes or room additions), you might be exposed to some outdoor elements as well.
Children and pets should be kept away from any type of construction. A remodel can cause temporary instability in a structure and also involves unsafe tools, equipment and building materials.
Remodels can also open up a can of worms. What may have begun as a simple kitchen upgrade or expansion could expose structural issues, mold problems or electrical issues which can be expensive to remedy. Although these repairs are ultimately necessary and good for your home, they can lead to a homeowner having to cover a much higher remodeling expense than initially expected.
To Rebuild?
Pros:
If you must start from the ground up with your home, the main reason to consider a demolition and rebuild is that you love your property and your home's location.
You can truly have the home of your dreams with a new build. While some issues might have been unfixable with an old structure, a new home allows you to design a space which actually works for you (bathrooms, bedrooms, floor plan, garage, kitchen, laundry room, etc.) in the location (neighborhood, commute, school district, etc.) you love.
Modern regulations mean your new home will be much more energy-efficient than your previous home, leading to lower energy bills in the future.
Cons:
A new build requires lots of time (6 to 18 months) for obtaining permits, demolishing, designing and building.
You will have to move twice and find a place to stay during construction.
New builds usually cost more than renovations, starting at around $150,000.
Depending on the condition and layout of your current home, you might desire a complete demolition and rebuild, a limited remodel, or a top-to-bottom renovation of the home's existing structure, features, amenities and layout. Although renovation might seem easier, a complete demolition and rebuild is sometimes the right choice. Visualize your dream home and ask a builder how to make it reality.