Thanks in part to Chip and Joanna Gaines, hosts of the popular HGTV television program, Fixer Upper, Modern Farmhouse is now a well-known home style and aesthetic term. What takes a home from being a farmhouse to the now desirable Modern Farmhouse?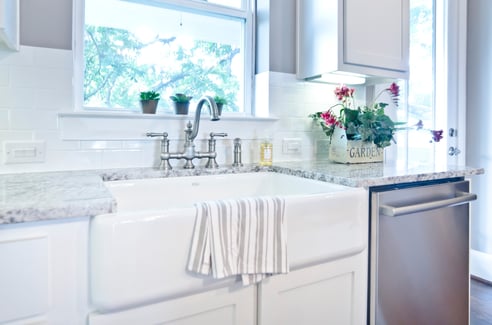 The Kitchen
The kitchen is one of the more important rooms of any home, and the same is true in the modern farmhouse. Whether combining wood cabinets with industrial appliances, or white appliances with painted white cabinets, it is often the little touches combined with large spaces that make a "Gaines" kitchen feel like a modern farmhouse. Shelves with herbs growing in pots, older designed flatware and plates, wooden stools around an island all give a sense of modern farm for the kitchen; and it provides you with a chance to change the style either subtly or dramatically without great expense if that is your choice. Using oversized industrial-styled lighting fixtures over the island is a wonderful way to make a bold statement. A farmhouse sink is a staple when planning your modern farmhouse kitchen. White cast iron farmhouse sinks are the most commonly used, paired with quartz or lighter granite. However, there are many options available now for sink finishes and colors – black polished marble farmhouse sinks and stainless steel are making an appearance in many modern farmhouse kitchens.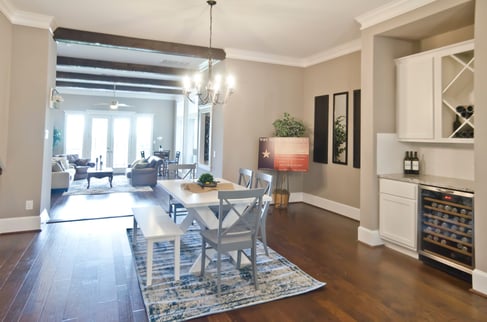 Living Spaces
Designers are using wood beams in living areas to add dimension to all white interiors. Natural light with natural wood is a common element of the modern farmhouse. Often, oak or maple are the favorite wood species used as they look beautiful no matter the shade they are stained. If floors and shelves are stained a lighter, more natural color, then chairs, flower pots, and couches can all be darker. Or, if the floor and shelves are lighter, an area rug can help provide a beautiful contrast that keeps the lighter feel in the room.
Often, those who prefer darker wood stains, for example on their floors or shelves, can use lighter colored rugs and lighter colored furniture to allow the room to feel light, both in the feeling the room gives, as well as the light that comes into the room. With a modern farmhouse, leather and modern wooden framed chairs are the best bet.
Bedrooms
Accent walls are a great choice for the modern farmhouse style. Joanna Gaines is famous for her love of shiplap; often, one wall made with this lumber that is also painted as an accent wall is a great choice. Use a lighter color for three walls, then a darker color for the accent wall and you'll have increased decorating options. If an accent wall is not your thing, adding shiplap finished off with crown molding is a great way to modernize your bedroom. The bedside furniture should not be bulky, and the bed itself should have a headboard and a footboard. With most modern country-decorated houses, most of the home's floors are wood, and you'll definitely need a light or medium colored area rug to keep your feet warm when you wake up. Lamps are an opportunity to bring in some fun individuality, too.
Master Bath
Designers have been using quartz or lighter colored granite finishes for countertops in modern farmhouse homes. Cabinets can be lighter-stained wood or painted – don't be scared to use color in the bathroom. White walls with painted light gray vanities are a huge trend in the modern farmhouse movement. Maintain clean lines with rectangular shaped under mount sinks and free-standing tubs. Add depth to the room by adding white subway tile halfway up the walls and finishing off with a chair rail piece. Another trend in modern farmhouse bathrooms is using multiple metal finishes – polished nickel, brushed gold, and even matte black on faucets and hardware.
There's no debate that Joanna and Chip Gaines drove the modern farmhouse movement with their show Fixer Upper. It's all about sticking to clean lines, merging old with new, and layering in industrial elements. Whether your home is considered traditional, ranch, or contemporary you can easily weave in elements to make your home a modern farmhouse. Contact us today to discuss your modern farmhouse.