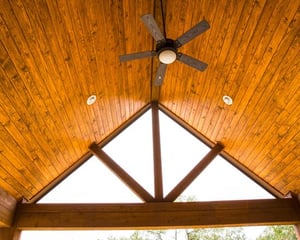 During the spring and summer months, there's often nothing better than sitting on the porch. Whether you want to sip a cold drink, have a snack, take a nap or just watch the world go by, there's always something pleasant about being outdoors. Rocking chairs and swings are popular on porches, but you can set yours up however you like. Here are some great spring and summer porch ideas for you to consider, whether you're setting up the porch you already have or trying to design the porch of your dreams for your new house.
Choosing the Right Size for a Porch Matters
When you want to build a porch onto your existing house, expand the one you already have or build a new house with a porch attached, the size of the porch is going to matter. Most porches are at least six feet deep, especially if you're going to put a porch swing or some other style of furniture on them. It's possible to do a lot with a smaller porch, though, so don't feel like you have to create a big porch if that's not what you want or it won't look good with the size of the house.
Want an Inviting Porch? Here's What to Consider
Making your porch inviting is one of the best ways to encourage people to use it. That can mean everything from a cozy porch swing to comfortable chairs, and might also mean decorative colors, new tables and accessories to brighten things up. The look of your porch should be something you're happy with and something that fits with your lifestyle. If you're a minimalist, for example, you don't need to have a porch full of decorative items. Just choose a few things that you feel good about, and make your porch a welcoming place to sit.
Painting Your Porch Can Change Its Entire Look
Even though painting can take a little work, it can also change the entire look of your space. When you paint your porch a color that's peaceful and calm, it can help you feel serene when you're sitting there. That makes a much more relaxing space. Whether you're listening to your children play in the yard or watching fireflies playing in the bushes, having a porch painted a relaxing color can really affect how you feel about using that space.
Outdoor Furniture and Rugs Make a Big Impact
The furniture you have on your porch is a big part of the level of comfort you'll enjoy. But it's not just the feel of the furniture that makes a porch inviting. It's also the rest of the décor. Having porch rugs that bring you joy and add some color can really make your porch feel welcoming to your family and your visitors. By adding rugs to your porch that can hold up to the weather, you can enjoy them for a long period of time and they'll stay looking great, too.
Are You Thinking About a Sleeping Porch?
Back before air conditioning was common, a lot of people slept outside on summer nights. They had screened-in porches and balconies where they would make the most of the cool night air. If you want to enjoy that same feeling, even if just for taking a nice nap, you can create a sleeping porch. You'll want to screen it in properly to reduce the chance of insects getting inside. Also consider the safety of anything you leave on the porch, since the screen isn't going to protect from the weather the way glass would.
Ready to build your dream home with that great porch attached? At Kurk Homes, we are #BuiltOnTradition and we have been designing and building from the Gulf Coast to the Hill Country for nearly 30 years. Contact us today, and let us help you get started on creating the home (and porch) you really want, so you can enjoy it all summer long.