We love to get the question "Can you make this change?" while we are designing your family's home. Yes, we can! We love to. Our designers' goals are to pull the visions from our customers and create a plan that our team can then build. Some customers have dreams of a quaint farmhouse overlooking a beautiful garden, while others want a funky metropolitan lifestyle of a more contemporary home. Whatever the customers' vision, a design-and-build firm like Kurk Homes can capture it.

While categorizing homes into styles can lead to muddy waters (such as transitional that incorporates contemporary, traditional, and sometimes Mediterranean or craftsman elements), we've most frequently incorporated plans into the following nine design styles.
Here are our 9 most popular requested home design styles (in no particular order):
RANCH:
Maybe it's about designing and building in Texas, but ranch styles are very prevalent for our homeowners with wide lots or acreage. The sprawling, typically one-story construction has many architectural features of interest - window overhangs, decorative trusses, faux dormers, and gables. We've seen brick and stone, sometimes combined with James Hardie lap siding or stucco, as well as metal roofs and composite shingle roofs with metal roof accents.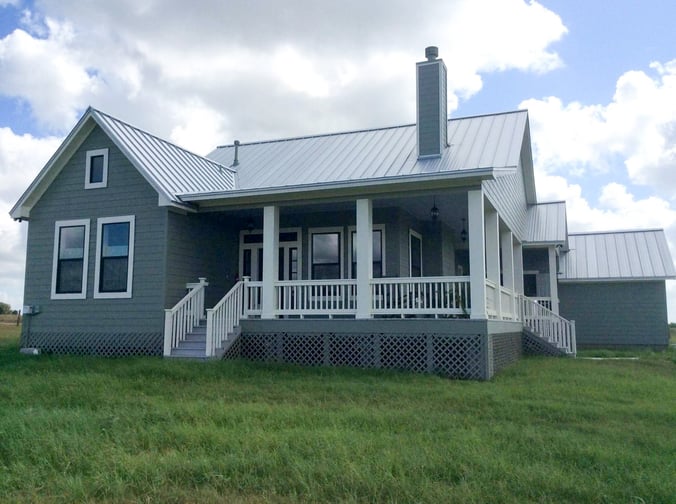 FARMHOUSE:
The farmhouse is usually smaller than a ranch and typically uses more Hardie plank than masonry. Farmhouses are known for their large-scale porches, and appeal for smaller properties with a second story view. Many times these homes are on piers, with steps leading up to the expansive front porch as this plan, above.

CRAFTSMAN:
Also referred to as "Bungalows," the craftsman style home originated in the 19th century, and really became popular in the early 1900s as a kind of architectural revolt against the industrial era. The highlights of the home became the intricate handcrafted details, natural elements added to the style, and decorative trim in contrasting paint or stained wood. Many older neighborhoods still have these full-of-charm homes, and newer homes are designed to incorporate that same antique appeal.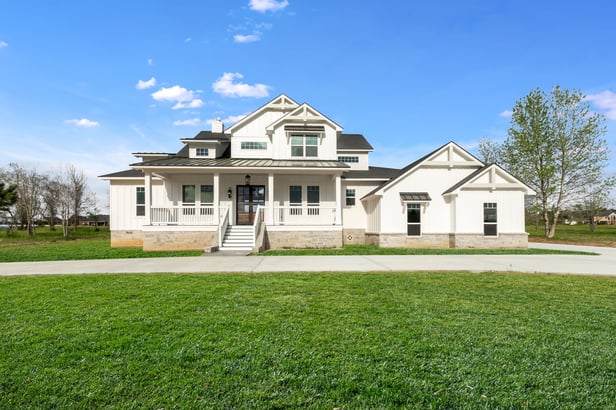 MODERN FARMHOUSE:
There's something about white painted vertical board and batten that makes this style of home a real crowd pleaser. Probably one of the most requested plan styles we design is the modern farmhouse. Versatile, attractive, and if the majority of the home is James Hardie siding, it is lower in material cost than a stone, brick, or stucco home. The home featured above has a a huge front porch and a rear patio, both elevated, taking advantage of outdoor living and the view of the property.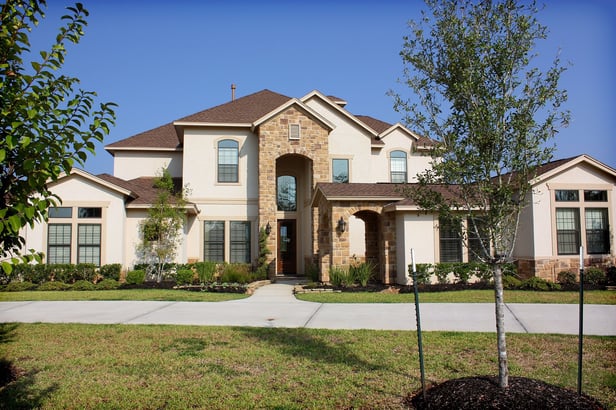 MEDITERRANEAN:
Based off the architecture visible in Spain, Portugal, and Italy, Mediterranean homes feature an exterior combination of stucco and stone with the occasional tile roof, courtyards, and balconies. Homeowners may want to add large wooden or iron doors with ornate detail and most of the homes have a low-pitch roof to a flat-roof style.

TRANSITIONAL:
The fusion of multiple styles into one home is referred to as "transitional". Many homeowners desire to merge their two favorites into one - we've most commonly combined contemporary and traditional styles together. This design blends the sometimes cold lines of contemporary with the ornate traditional, creating a new exterior that hosts the benefits of both without entirely checking either box.

NEW AMERICAN:
Another design that blends traditional with a modern farmhouse look is the New American. This design incorporates a large front porch, usually accented with bright white trim and railing, and symmetrical gables accented either with trim details as above or truss details. We love the mixture of materials - a metal accent roof over the porch combined with a composite shingle roof as well as cultured stone and board and batten James Hardie, too!

(AMERICAN) TRADITIONAL:
American Traditional homes host an exterior of mainly brick, typically a reddish tone, sometimes with painted James Hardie lap siding on the rear or side elevations. Composite shingle roofs in darker colors in varying roof pitches are commonly seen, as well as an arched front entry. This home has a modern touch to the transitional with a square gable front.

SOUTHERN LIVING:
While there is not one definitive style of home for Southern Living inspired plans, there are a few key components that allow the home to embrace its Southern flair. Incorporating plenty of natural light into the home, as well as a vast amount of front porch, back porch, breezeway and outdoor living spaces really set the tone for Southern Living plans. While the exteriors are predominately James Hardie, the range of trim decoration can vary. As shown above, our very own Kurk Homes "Legacy Ranch" plan was selected to be a Southern Living plan, after the success of our Showcase Home in Texas Grand Ranch.
Which style, or combination, would you choose for your home?