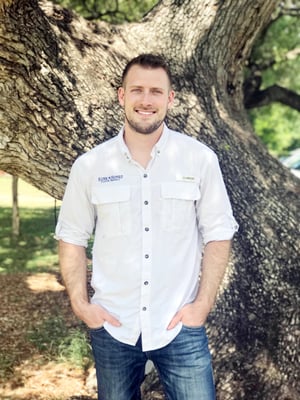 Deep in the heart of the Texas Hill Country resides Steven Byrne, a visionary man with a dream—a dream to help families design and build their very own custom home, just as he has helped numerous families do during his years of varied experience. However, his passion for planning and creating structures began at the tender age of four when he got hooked on drawing, piecing together puzzles and building with Lego toys. With the support and guidance of his Swiss-born mother and American father, this Houston-born go-getter went on to graduate from Texas A&M with a degree in Architectural Design. Since that time, Steven has been diligently gaining experience and earning a solid reputation amid the real estate industry as a top-notch architectural designer who now enjoys being a member of the Kurk Homes family.
With the ability to design each detail of a custom home, Steven is instrumental in capturing our homeowners' vision of a home into a plan that we can make a reality.
Steven's Experience and Qualifications – The Journey to Kurk Homes
Steven Byrne began his journey into the field post-graduation as a home designer who has assisted in the planning and development of projects ranging from storage complexes, hotels, townhouses and single-family structures. While he has even had the pleasure of working with architects in Zurich, Switzerland Steven feels most at home when working in the Lone Star State. Around 2010, Steven began designing homes for Texas families in the greater Houston area and the Hill Country. He is known around the region for his unique and functional home designs that utilize an array of styles ranging from traditional, Texas Hill country, farmhouse, craftsman and Mediterranean.
Five years ago, Steven joined the Kurk Homes family as a designer and moved up to become the design manager of the company in the Hill Country office. His passion for this work is clear in every plan he either designs from scratch or assists families perfect drawings they bring in. Using AutoCAD software to convert 2-D drawing into digital working drawings he lets buyers see exactly what their dream home will look like upon completion. Much of Steven's completed work and designs can be viewed on sites such as Pinterest, Houzz, and Kurk Homes' website.
What He Loves About Working for Kurk Homes
When asked what he loves most about working with Kurk Homes, Steven was quick to reply, "because they put family first." As a family owned business, everyone there is considered to be a member. Daily inquiries between staff include asking about each other's children and spouses, and the 'big boss' even has toys in his office for the kiddos. Steven also appreciates that he has the freedom in the Hill Country to create more farmhouse designs that suit the beauty of the region. He loves working with natural stones, Hardie siding, and gables for exteriors while being partial to open interiors, big garages and spacious patios so homeowners can truly enjoy their home to the fullest. Working with Kurk Homes allows him to assist a variety of clients doing exactly what he loves most.
Steven's Home and Family Life
While Steven loves to travel to exotic places like Italy, he mostly enjoys the scenic beauty of the Texas Hill Country. That 15-minute drive to work passing pastures, trees and wildlife give him the boost he needs for the day along with one of his guilty pleasures—an energy drink. When he's not designing homes, he spends time with his wife of six years and his three-year-old daughter and one-year-old son. And of course, he spends a good bit of his time doing that Honey-Do list. Any spare time left is devoted to sports and outdoor pursuits like kayaking and hiking.
Kurk Homes is proud to offer quality-constructed custom homes with a 20-year warranty. We take pride in providing our clients with a "no surprises" policy by maintaining constant communication throughout the building process. Whether building from an existing plan, a Southern Living Plan, or consulting with our talented Design Team to plan your dream home, we take pride in going above and beyond to make your dream home a dream building experience as well. Contact us today to discuss building your custom home!