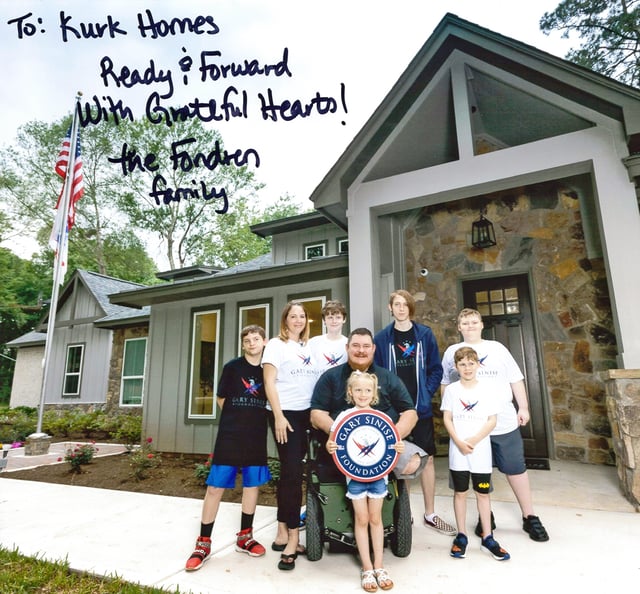 We recently had the honor, alongside the Gary Sinise R.I.S.E. Foundation, of presenting Retired Army Staff Sgt. Jay Fondren with his new, specially-adapted smart home. This is a beautiful home for a beautiful family that was custom designed and built to meet their specific needs.

Seeing the family showing their dedication to one another and our country, we wanted to help pay it back in a meaningful way. It was truly an honor to be the builder selected by the Gary Sinise R.I.S.E. Foundation, and be a part of this amazing family's story! See their incredible welcome home video, here.
The team at Kurk Homes is grateful for the service of Sgt. Fondren and the entire Fondren family, and for the opportunity to design and build their family's home while working alongside the Gary Sinise R.I.S.E. Foundation. It was truly an honor.
This beautiful home combines Texas Hill Country and Modern Farmhouse buildstyles to create a unique and inviting exterior. Our home builder design team worked with the family to choose cohesive exterior selections including board and batten James Hardie, real stone veneers, and a mahogany front door to help this home feel warm and welcome. See a comprehensive list of the exterior selections below.
Exterior Selections:
The exterior features were specifically picked to fit the client's style and liking. When it comes to designing your home, we walk with you every step of the way. With the details below, you can match this style or create your own perfect home with a custom floor plan.

James Hardie board and batten in Sherwin Williams 7017 Dorian Gray
James Hardie Trim in Sherwin Williams 7047 Porpoise
Cedar-wrapped truss on rear patio with Natural Sealant by Sherwin Williams
Real Stone Veneers – Preston Blend
Owens Corning TruDefinition Duration Shingles in Estate Gray
Metal roof accents in Charcoal Grey by Quality Materials
Seybro mahogany Craftsman 6 Lite w/Dentil Shelf front door selection in Royal Walnut stain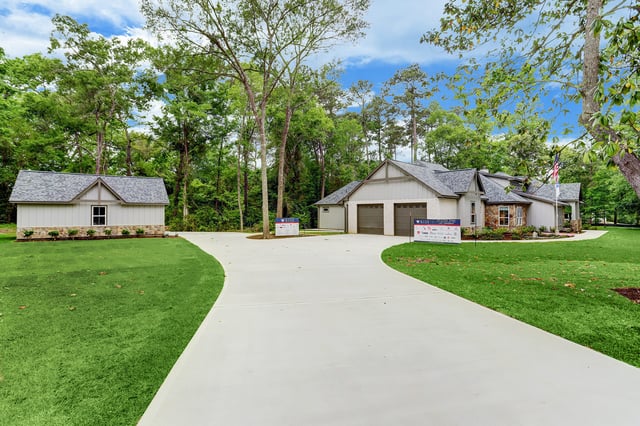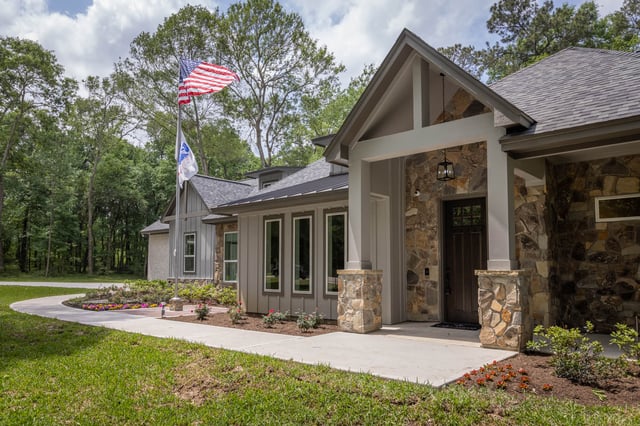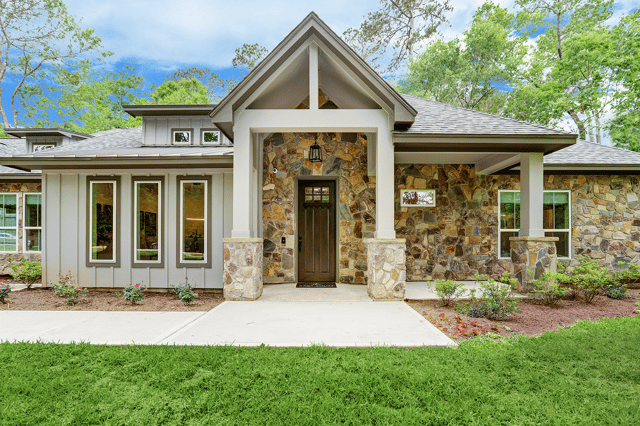 Interior Selections:
Interior selections and furnishings make houses feel like homes. Everyday use items like door handles and faucets can have a major impact on the way you go about your day as a Kurk Homes homeowner.
Here, we made sure to make the best use of space for this specially designed home with custom-designed inset cabinets and wider walkways.
Cedar mantel stained in Minwax Fallen Cypress
DalTile Modern Hearth 3x12

kitchen backsplash and butler's pantry

Benjamin Moore 968 Dune White for the walls, ceiling, and trim
Kent Moore Cabinets in River Rock Low throughout the home and island in Spruce Ridge Low Ebony Glaze
Calacatta Vecchio Marble Leathered-finish Countertops
Black door hardware in Ashfield style by Kwikset
Matte black kitchen faucets and sprayers by Brizo and Delta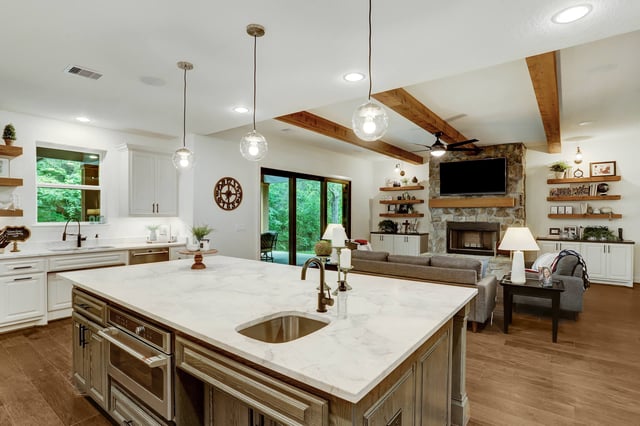 The large island provides both room for the whole family to join in on the cooking and a place for the kids to enjoy a snack.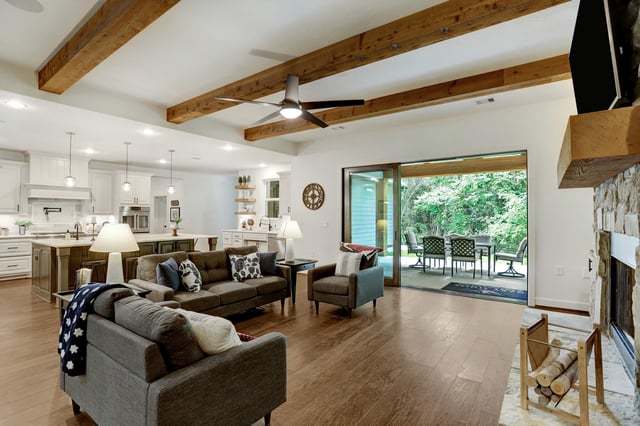 It's easy to relax in this living room with the massive Marvin sliding patio doors allowing natural light to fill the room. Cedar-wrapped beams and a stone fireplace contrasting the Benjamin Moore 968 Dune White paint bring the outdoors inside.
We packed all the functionality we could into this home including a pull-down spice rack, recessed cabinets for accessibility, a French door wall oven, and multiple faucets.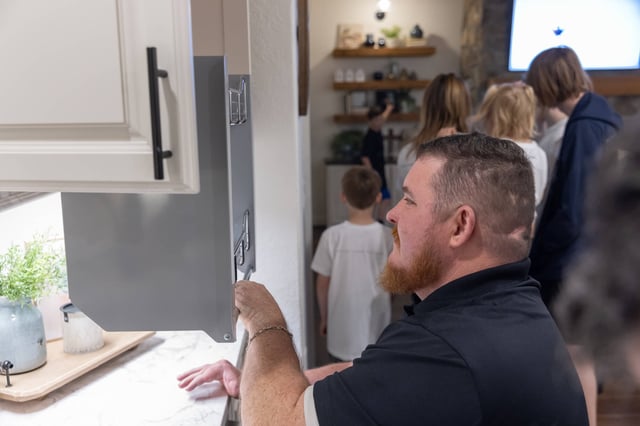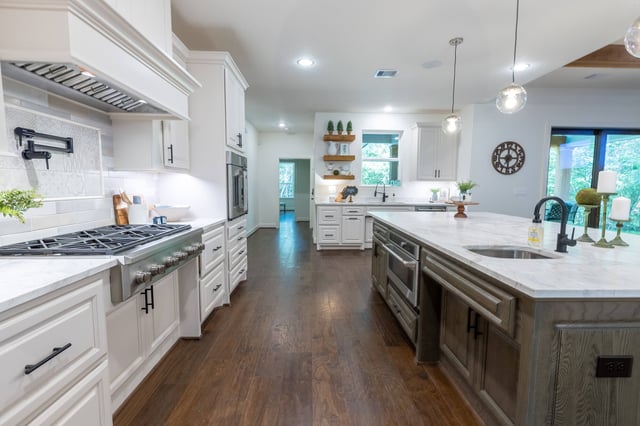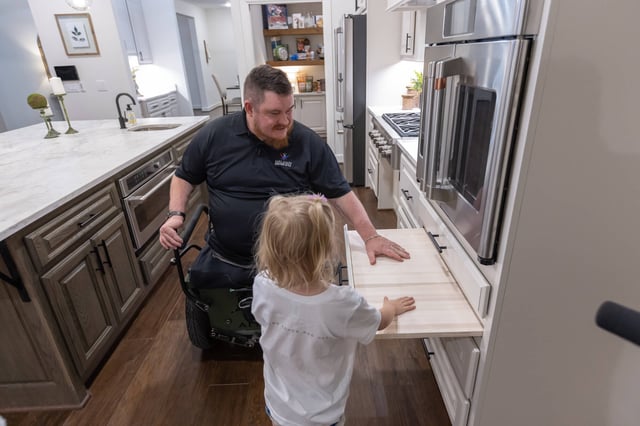 Often used areas like drawers for cookie sheets and pans were specifically placed in the home for easy use for all family members. The French door oven allows for easy use while seated, instead of the higher space in a traditional pull-down door. The pull-out cutting board was also a fun surprise for this sweet family!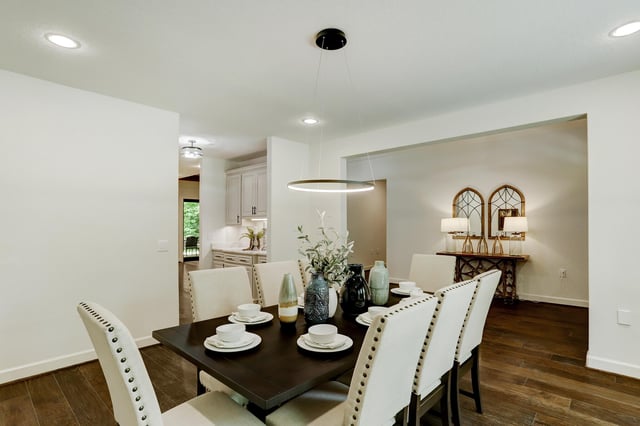 Large dining rooms are necessary for large families! Here, the beautiful table is highlighted with a well-fitting black-on-black chandelier by Jonathan Y surrounded by flush-mount disk lights.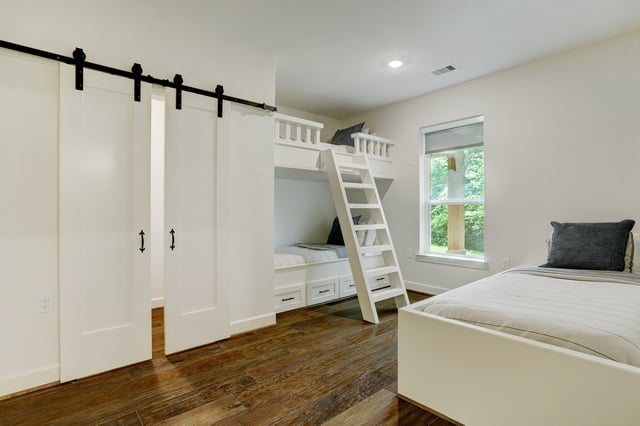 In a house full of boys, space is key. Here, we have used the space well with custom trim-built bunk beds with drawers underneath. Barn-style doors close off the bathroom for ease of functionality and saving space.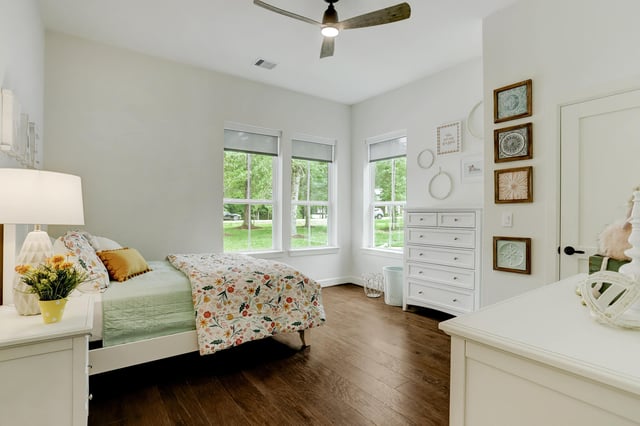 Every little girl, especially one with five brothers, needs her own room and a place to show her personality! Fun colors and large windows help bring the space to life for her.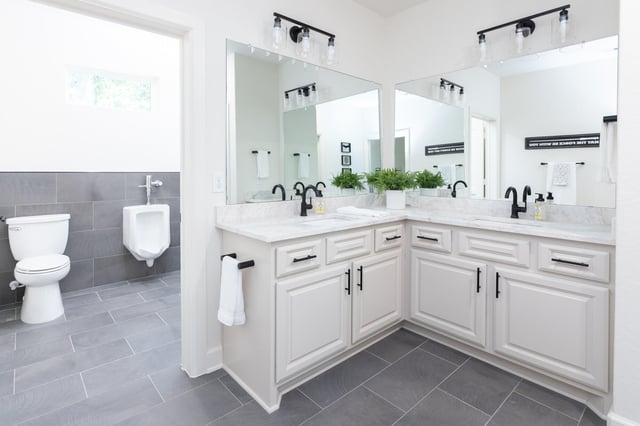 The boys' bathroom has everything the five boys need in a well-equipped space with lights by Golden Lighting and cabinets by Kent Moore.
Master Bathroom Selections:
This master bathroom is truly one of a kind. Hexagonal tile and a custom-designed heated-tile shower set the space apart from the rest of the home.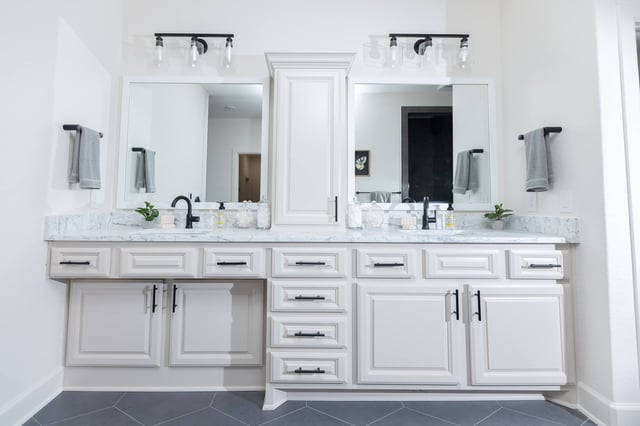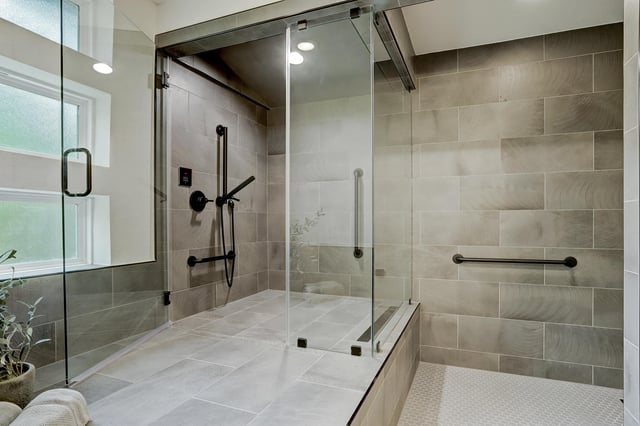 With stylish heated tiles and a steam shower made for comfort, this shower meets every need to bring relaxation and ease of access.
The large hexagon tiles underneath the vanity flow nicely into the shower area with smaller hexagons in a Suede Gray, also by Daltile.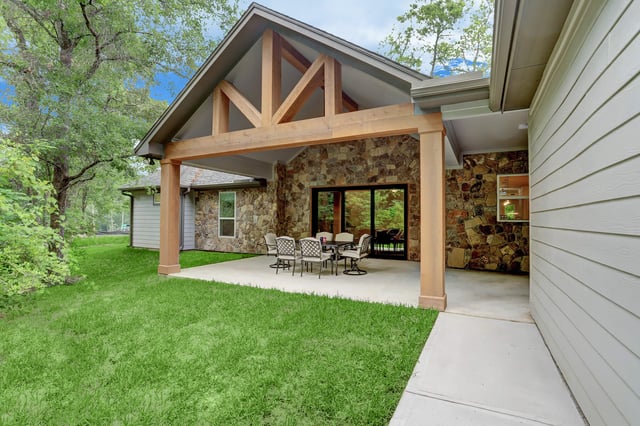 It's easy to connect with nature when it's just steps from your door. The backyard flows nicely into the natural surroundings with a stone exterior and a cedar-wrapped truss. This will be the perfect place for summer gatherings and cook-outs with the family.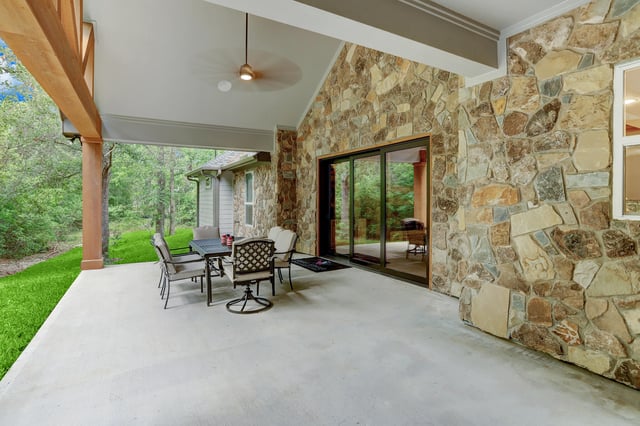 ---
We are very grateful for the service of the Fondren family, and for the opportunity to design and build their home while working alongside the Gary Sinise R.I.S.E. Foundation. It was truly an honor for our family company.
Does your family have a specific design in mind or just ready to build on your own land? Sometimes getting all of your ideas in one spot can be a challenge.
Fill out the questionnaire below to organize the great ideas you may have. This tool was specifically created for our designers to get closer to truly designing your dream home, based on your ideas!
Build Your Custom Home With a Team of Proven Professionals
Kurk Homes is a third-generation, full-service build on your lot custom home builder in Houston and the Texas Hill Country. We offer a 20-year structural warranty and are the only Southern Living Custom Builder to do so.
Our high standards include 2 x 6 exterior walls, Guardian Home Certification, and meticulous third-party inspections. We are #BuiltOnTradition and have been designing and building from the Gulf Coast to the Hill Country for over 30 years.
Ready to start designing with your custom home builders? Let's get started.